A leaked technical document listing the iPhone 6 NAND flash modules suggests Apple will launch the phone in 16GB, 64GB and 128GB flavors. Gone is the 32GB memory option with the 64GB one sitting in its place.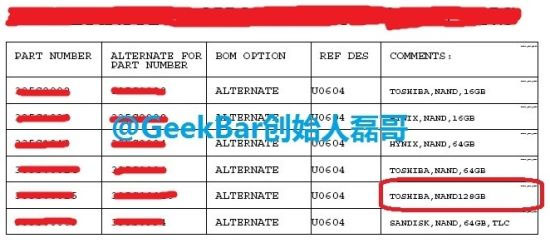 According to the leak, Toshiba and Hynix will provide the 16GB NAND flash chips. Hynix will also be responsible for a portion of the 64GB NAND chips alongside SanDisk. The largest, 128GB memory will carry Toshiba branding.
This is a strong indication that Apple doesn't bet too much on selling a lot of 128GB iPhone 6 models. Pricing of the company's flagship with such internal memory isn't specified either.
You may remember that shortly before launching the iPhone 5s, Apple was rumored to offer the phone in a 128GB flavor, but this didn't happen. We'll see if the 128GB iPhone 6 will finally bring the long-awaited capacity boost.
a
apple was a good comapany till steve his ideas rule the market they were 10 years in future, but now the product quality of apple seems to be common and same as other brands.in terms of technology you cant say i am the best rather you have to prove ...
D
nice joke, my 144gb Android has been laughing at the copycat Apple for one year at least :)
A
Maybe you should try being a competent Android user (TM) and look into apps like Link2SD, MoveToSD, AppMgr, etc.