After the Optimus 3D 2 the other day we now got some extra info on the other hot droid, which LG will unveil at the MWC. We stumbled upon the benchmark results of the LG X3 - the quad-core beast with an impressive 4.7" HD screen we first saw in January.
According to the author of the leak, the specs we heard last time around were spot on. This means the LG X3 will be built around the Tegra 3 chipset, featuring four Cortex-A9 CPU cores, running at 1.4GHz. A 2000 mAh battery will make sure that there's always enough power to keep the X3 going, while the impressive AH-IPS screen will fill in at the front.
The LG X3 is said to have 16GB of expandable thought the microSD card slot internal memory, an 8 MP main camera and a 1.3 MP front-facing snapper. As it to be expected, the LG X3 will run the latest version of Android, 4.0.3 Ice Cream Sandwich, out of the box.
With specs like that it's no wonder the LG X3 puts the Samsung Galaxy Nexus to shame in the performance department. The quad-core LG monster achieves more than twice the score of the Android ICS flagship at Quadrant with the results distribution staying consistent over the different categories.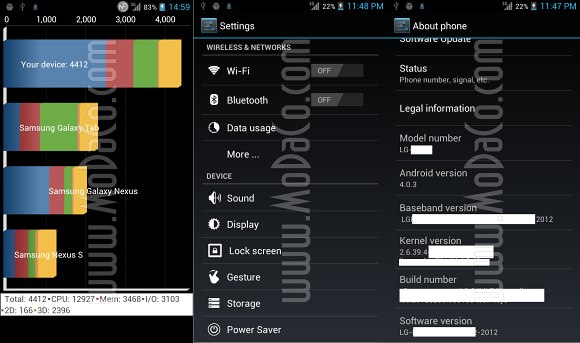 The LG X3 will certainly be a handset worth keeping an eye on and it might be a huge step towards improving the LG position in the smartphone game.
Thanks to everyone who sent this in!
D
hi. i want to ask you something. why iphone?
ADVERTISEMENTS