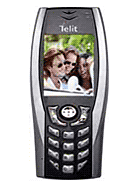 P
I have really Liked using the Phone, I Hope everyone will also use the same, espercialy the Picture quality and how vibrant the phone is. etc
S
Is that phone avaiable at all//////id like to buy it that one or G 80///appreciate in advance
g
I've buy a G83, it's a great phone, full of gadget and every you want, only it have a little bug in phonebook when you fix a identity photo inside... you can find the same face in more address!?!? WAITING FOR A TELIT PATCH...
b
ok i spoze-but is it actually avilible on this planet........at all?

?
Grat and complete phone!
Amazing design by Giugiaro.
Buy it! :)
Total of 27 user reviews and opinions for Telit G83.