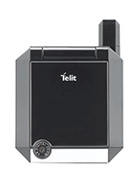 D
Holy ....! This weird thing is so interesting, I want one. Why don't they bring again the old designs with a little more modern features and better battery?
m
They never really thought of anyone when they made this thing. Alien like fingures required to navigate this thig. X-File fans would love the fact this is one weird phone. I my self found it to be PERSONAL taste, Looks Funny but did have some allright features. Never seen one in Australia apart from the one i got for my kids....
?
right now it have a panasonic g70 but need something new, does it work in the usa????
B
Barry Boodle it my profesional opinion that you should consider purchasing something like the Amoi A310 if you are old! It has big buttons so your old fingers can push them and it is also easy to view with your old eyes. Regards Bjorg.
B
I think everyone should have one of these they are the smallest phone in the world and possibly the best looking.
The only concern i have is loosing it behind my recliner and if that happened it would cause much heartache and i cant have that at my age.
Mr Barry Boodle
Concerned Phone Critic.
P
L J Hooker I agree its a piece of modern art. The menu system just speaks to me.
B
My phone is fantastic, i dont know what your on about.
IT'S GREAT!!!!!
Thankyou LJ Hooker your the best.
Total of 15 user reviews and opinions for Telit t410.