The authors of the Telmap Navigator mobile navigation software are looking for candidates willing to participate in its beta testing. The software is compatible with a large number of handsets available on the market and offers a good number of services, including voice-guided navigation, real time traffic information, detailed maps with a rich POI database, different map views, etc. The best part is that every user that is willing to participate in its beta testing is going to receive the software for free.
The Telmap Navigator is compatible with most of the mobile platforms today - Java, BlackbBerry, Windows Mobile, Symbian, plus various feature phones of all brands around the globe.
Telmap Navigator is currently open for beta test and you may participate in it by joining the Telmap User Group. If you are residing in one of the following countries: France, Germany, Israel, Italy, Netherlands, USA, Canada, United Kingdom, Spain or South Africa you are eligible to take part in the beta testing. You can sign in through the official Telmap User Group web site.
Currently, Telmap is especially looking for people with the following handsets: BlackBerry 8900 and 9000 Bold, Sony Ericsson C702, C905, G705, W715, W760 and Z780, however additional devices are also wanted, including Windows Mobile and Symbian-powered ones. More details can be obtained again on the web page, mentioned above.
We were able to test the Telmap Navigator ourselves and we are pretty happy to conclude that it features everything you might need. Besides it packs a nice and easy to use interface.
The main menu is well organized and gives quick access to most of the functionality. In "Where to" section you only need to enter the address you want to go to and voila - your navigation route is set up and ready to go. There are options to see the full road on the map, step-by-step streets and turns, change views, etc.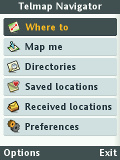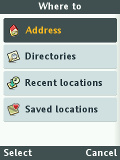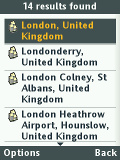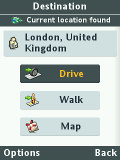 The main menu, navigation options
The Telmap Navigator supports both pedestrian and car navigation with the former optimized for walking . It's pretty useful, especially when you are in the crowded downtown of a huge city.
The "Map me" button will display your current position on the map. In our case it acquired an initial satellite lock in about 30 seconds and displayed our position with outstanding accuracy.
Browsing the map is as easy as ever - "*" and "#" are used for zooming in and out, while the D-pad or 2,4,6,8 are used for scrolling through the map.
The Telmap Navigator downloads maps from the server in real time so it needs a 3G or GPRS internet connection to operate.
Generally we are pretty pleased with the Telmap Navigator. It has all the navigation stuff you may need - sound guided turn-by-turn navigation, detailed maps, POI on the map, traffic information, different map views, easy controls and great compatibility. You can install it on most of the available phones, even those without GPS, and still use some of its features - as a simple digital map or as a route calculator.
For more information about Telmap and Telmap Navigator you may visit the official web site.
If you want to participate in its beta-testing and get a free copy by following this link.
w
I want to download telemap navigator
s
Green line areas are specific to Israel and defines Palestinian territories. When you have this option checked, the application warns you when you try to navigate on a road which passes through Palestine.
?
after registration, got the sms with the link and activation code. nothing happened when I click next.
ADVERTISEMENTS