We recently reported a certain Samsung Hercules that was spotted in Canada that could be heading for the TELUS network. Today we have some more pictures, courtesy MobileSyrup.com, that not only confirm that the phone will in fact be sold on the TELUS network but also give us a brief idea of the kind of performance it will offer.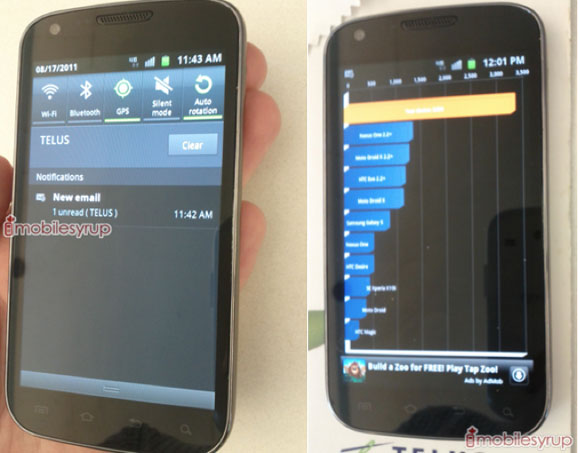 The Samsung Hercules is a variant of the Galaxy S II but the two have several differences. For starters, the display has been stretched to 4.5-inches but maintains the fabulous Super AMOLED Plus technology. Below the display we can see a row of capacitive touch buttons, same as those on the Nexus S. In fact the entire shape of the phone looks quite similar to the Nexus S.
The Hercules is expected to have a dual-core 1.2GHz processor on-board and it is rumored to be from Qualcomm instead of Samsung's own Exynos. Perhaps it is same as the one that powers the HTC Sensation. It has an 8 megapixel camera on the back, possibly capable of 1080p video capture and a 2 megapixel camera on the front. It is expected to be Canada's first dual-carrier 42Mbps smartphone.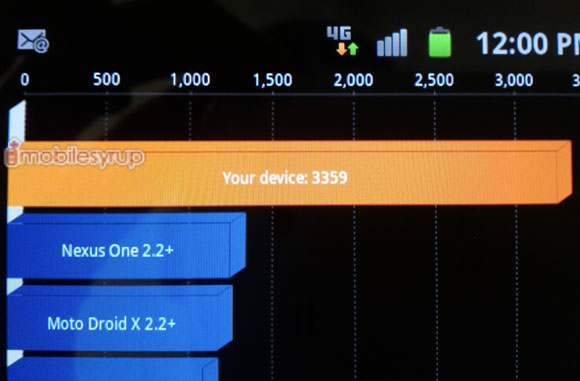 We also have the score of the Quadrant benchmark and we can see the Hercules did quite well with a score of 3359, which is just a shade below the score of 3538 that we obtained on the Galaxy S II. This score is significantly better than the 2357 that the Sensation managed, which is possible even if the Hercules is running on the same chip as the Sensation because the Sensation has a higher resolution display that is more difficult to drive and hence gets a lower score overall. It must be said that the Galaxy R running Tegra 2 managed to get a higher score than all these phones in Quadrant.
No pricing or release date is known at this point of time. Hopefully, the official launch of this phone is not far from now.
m
It's an attempt at market differentiation and with the varying network technology used by U.S. carriers (i.e. LTE, wiMAX, HSPDA+) they "brand" these devices to mark them specifically for each MSP. We U.S. (and possibly North American) endus...
D
I think its because they think that their version is better than the other ones and they can then add then own firmware on to to it. I dunno but it would be cheaper to just hive everyone a Galaxy S 2 locked to the new work instead of redesigning the ...
?
I'm glad to hear that this phone doesn't use a Qualcomm processor. Anything but Qualcomm! Even with a WVGA screen, the outdated Scorpion processors are far from reaching the 3000's in Quadrant.
ADVERTISEMENTS