Remember the 12 MP Nokia Lumia 910 that surfaced several days ago in the Netherlands? It sure sounded awesome, but as it turns out it isn't happening.
The official confirmation was brought by the Nokia camera guru Damian Dinning. The head of Imaging Experience of the Nokia Smart Devices division was asked by a fan to comment on the rumors and he responded that a 12 MP Lumia 900 smartphone simply doesn't exist.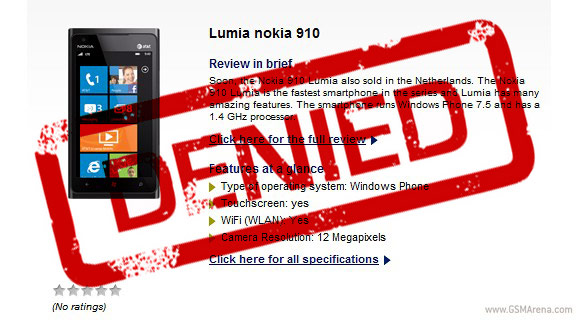 Another interesting bit to be had from the conversation that took place in Twitter is that the Nokia Lumia 900 uses the same 8.7 megapixel sensor as the Lumia 800 and Nokia N9. The unorthodox sensor allows the user to capture 16:9 still in higher resolution than conventional 4:3 sensors.
So, if a 12 megapixel WP smartphone isn't on the cards, we can't help but wonder what Nokia will unveil at the MWC. The industry's largest event is fast approaching and Nokia better make its presence there memorable, or those financial troubles might turn even uglier.
Thanks, Le Anh, for sending this in!
U
If you want a great camera buy one - If you want a great smart phone buy an IOS or an Android phone.
?
lumia 910 is sometime perfect but e8 communicator nokia phone is actual perfect set bcz they give qwerty keyboard,touch screen
?
Lumia 800 released in EU around November/December first. Lumia 800 will be available in the USA around February. Lumia 900 will be released in the USA around March (rumoured) first. So maybe Luma 900/910 will be released in EU these coming ...
ADVERTISEMENTS