The Apple App Store is still undeniably the leader in application stores. Without much fanfare, sometime yesterday evening it passed the 300,000 apps mark - less than two months after is passed the count of some 250,000 applications residing in its repository.
One report from Mobclix puts the app count at just over 300 thousand and another report from 148Apps puts the count at 333 thousand (in the US App Store, counting inactive apps too).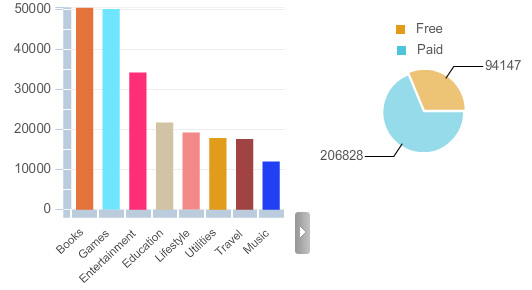 Anyway, 207 thousand of the apps in the Apple App Store are paid (according to Mobclix) and 94 thousand are free (31%). 50 thousand of the total apps are books (so not much of an "app") but another 50 thousand are games - an important part of the statistics, considering that the Top 5 titles in both the paid and free rankings are games.
Games in the App Store cost an average 1.21 US dollars and apps go for 2.85 USD on average. The average time devs (and fans) have to wait to get their app/game approved is now just over a week.
?
that iphonefever site explains your attitude: ignorant, immature, and obsessed at attacking.
m
correct... but until the android store doesnt have those things that apple itunes store has android is still way behind... I checked out the android store hoping to find applications like Lexi-complete, Oxford dictionary, Oxford medical dictionary an...
d
http://theiphonefever.blogspot.com/2010/05/iphone-appstore-myth.html you guys might wanna take a look at this lol @ apple
ADVERTISEMENTS