The Asus ROG Phone 5 will have up to 18GB of RAM, Geekbench scorecard confirms
The Asus ROG Phone 3 was one of the first smartphones to have 16GB of RAM, it sequel will likely become the first smartphone to offer 18GB – it will be announced on March 10, so competitors have just over a week if they want to be first.
This can be seen in a Geekbench result of the Asus ROG Phone 5, specifically the I005DB version. If you remember, there are two versions – DA and DB. The DA version will be the basis of the Tencent Games edition of the phone, but it is also the one that DxOMark tested in its Audio review. The DB version has a secondary display on the back.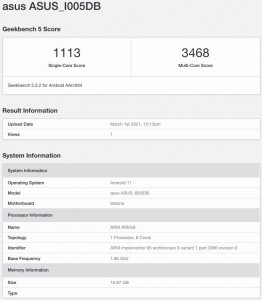 Asus ROG Phone 5 (I005DB) with 18 GB of RAM shows up on Geekbench
The DA also appeared on Geekbench back in December and it had only 8 GB of RAM. More recently, another DA showed up with 16GB of RAM. There's a good chance we'll see a 12GB configuration as well.
JD.com has already put up a teaser page for the Tencent edition of the ROG Phone 5. There's not much on there (the price is certainly a place holder), but users can get in line for the upcoming launch (and get a small coupon in the process).
The phone will be powered by the Snapdragon 888 chipset, of course, and will launch with Android 11 out of the box.
M
Macbook 13 has the m1, same thing like galaxy book s. And yes, its geekbench. They both destroy. What fumes? Its not nitpicking, theres no source for their claims. Wikichip doesnt have it. Adrenos did fare well, look it up. ...
?
"Theres full laptops running the 8cx," no theres only notepads and some 2in1s, nothing really on a scale of macbook pro, anyways using 8cx for a laptop is the same thing as using 800 series for tablets and notepads, and there is no native a...
M
"the only thing you were complaining about soo much was literally how "adrenos suck, ipads gave better peformance and a12z gives better performance" yada yada yada. thats what my point was about." Ipads do, so do iphones. Yad...
ADVERTISEMENTS