Asus Zenfone 6 is official: Snapdragon 855, rotating 48MP camera, 5,000mAh battery
The Asus Zenfone 6 was designed with the goal to give power users everything they want. And the company came admirably close, considering the €500 price tag. Yes, in a rare move for the mobile industry these days, Asus didn't raise the price of its top phone.
Asus had certain design goals in mind. The Zenfone 6, or ZS630KL if you are into the company's product codes, had to be no wider than 75mm to be comfortable to use. That determined the screen size – 6.4" – and to make the best of it, there are no notches or punch holes.
Instead, a flip-up mechanism was devised that points the rear camera forward. It's a combo of a 48MP Sony IMX586 (0.9µm pixels, f/1.8 aperture) and a 13MP 125° ultra-wide angle camera.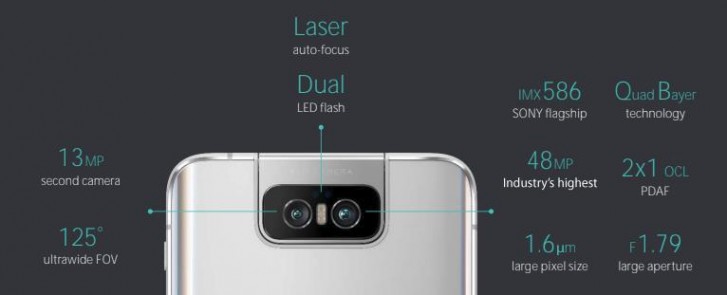 The camera can record 4K videos at 60fps with electronic image stabilization, even in selfie mode. The rotation mechanism can be used to shoot panoramas automatically or use motion tracking to keep your subject in frame. Asus also developed HDR+ Enhanced and Night Mode, which rely on multi-frame synthesis to improve image quality.
Back to the screen, it's a 6.4" IPS LCD that covers 92% of the front. It has a peak brightness of 600 nits and supports DCI-P3. Asus used a traditional fingerprint reader on the back instead of an in-display unit.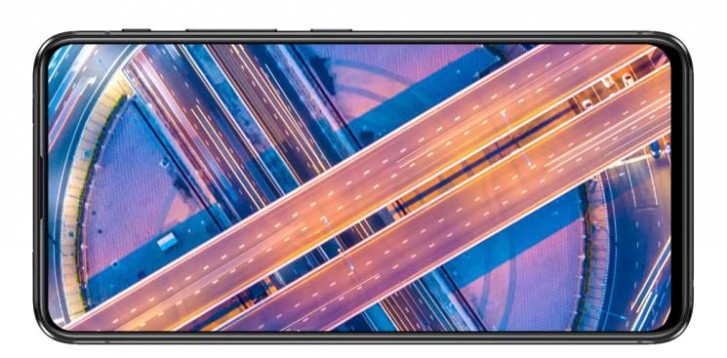 There's no "z" model this year, there's only one Zenfone 6 and it's powered by a Snapdragon 855 chipset. It has up to 8GB of RAM and up to 256GB of UFS 2.1 storage. Also, Asus didn't want to make you choose between dual-SIM and extra storage, so the card slot holds two SIMs and a microSD.
This sentiment permeates the rest of the design too. The phone has dual amplifiers and is Hi-Res Audio certified. Asus even bundled a pair of ZenEar headphones (also Hi-Res certified) that you can plug into the 3.5mm jack. And if you want to go wireless, you'll enjoy quality aptX HD sound.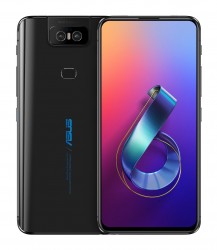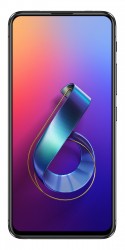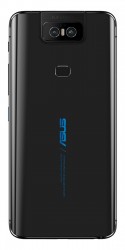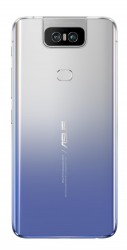 Asus Zenfone 6 in Midnight Black and Twilight Silver
After the positive response from its Max series, Asus wanted a large battery for the Zenfone 6 and it managed to fit a huge 5,000mAh pack. It charges only at 18W, but thanks to its capacity, the charger can stay in the faster "constant current" mode for longer. This means putting 3,300mAh in the battery takes less than an hour, about as long as a 27W charger will take to fully charge a 3,300mAh battery.
This also extends battery longevity as it goes through fewer cycles. Wireless charging was not included, because according to Asus, it's detrimental to the longevity of the battery.
ZenUI 6 has been completely revamped and it looks almost entirely like the stock Android 9 Pie on which it's based. There are still various Asus enhancements and the company has promised to prioritize the upgrade to Android 10 Q and it will deliver the next version, "11 R", in the future. The Zenfone 6 will get a minimum of 2 years of security patches on a bi-monthly basis.
The front of the phone is Gorilla Glass 6, the back is also made of Corning glass. In the middle is a frame of 6000-series aluminum.
The GG6 glass can withstand several falls, but so can the flip-up camera. It's made from Liquid Metal – lighter than stainless steel but 4x stronger – and it will close automatically if you drop the phone. Asus tested it with up to 100,000 flips, that's 28 selfies a day for 5 years.
The Asus Zenfone 6 will launch in the EU first at €500 (same price as the Zenfone 5z last year). It will be available from Asus.com and retail partners from May 23.
For more on the Asus Zenfone 6 head over to our hands-on review. It will tell you about the option to manually rotate the camera at any angle, how it works with third-party camera apps (e.g. Instagram, Snapchat), the Game Genie, the AudioWizard, and why you shouldn't call the Smart Key Assistant key.
V
Would be perfect but no amoled is a deal breaker, any flagship these days must have amoled
It's about having more features than others. For example tbe headphone jack is important for me, as well as a 4k display on a phone and msd slot. You can go with less features yes, but you pay for double the price to get less features.
T
Look at all the idiot types who don't understand what microSD card slots are for. If you think only 64GB is enough, then you are a low level user. Go buy a Qualcomm SD 400 series entry level phone then. You can get 200GB++ of high speed micro-SD...
ADVERTISEMENTS