Well, how about that? All the rumors turned out true to the last bit. At an Android press event Google just presented their new Android uberphone and they have novel way of selling it directly to customers.





Official photos of HTC Google Nexus One
Features and design
You've probably heard all there is to know about the Google Nexus One. We doubt any of its specifications will come as a surprise to you. It's got a Teflon-coated body, a 3.7-inch AMOLED capacitive touchscreen, 1GHz Snapdragon CPU, GPS, digital compass, accelerometer, light and proximity sensor, 5 megapixel camera with LED flash, 3.5mm headphone jack, and a multicolored status alerting trackball.
There's also a second microphone on the back used for active noise cancellation during voice calls.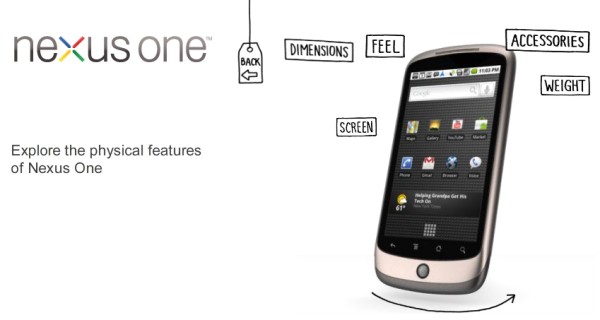 There are even some one-off's
There is a couple of other things we noticed. First off, as far as we know, the Nexus One is the first GSM mobile phone touting 802.11n Wi-Fi support (or is it a typo?). Also we believe Nexus One has the first AMOLED display used by HTC ever. We'll see more of those on their upcoming phones.
Android gets updated to 2.1
Google Nexus One runs on Android 2.1 - an update version of Eclair. There are five homescreen panels instead of three and there are new news and weather widgets. Users also get a dynamic wallpaper that reacts to your touch on the screen and a 3D main menu (app launcher). Google have also added speech-to-text input, which works on every text field throughout the UI.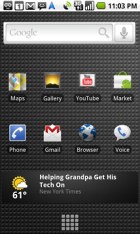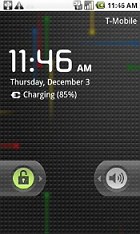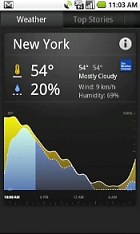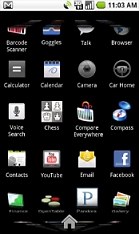 Nexus One lockscreen • homescreen • news and weather widgets • 3D barrel main menu
Google have teamed up with Cooliris to put the 3D capabilities of the phone to good use in the image and video gallery. Browsing those looks extra cool and there's even a way to automatically organize photos in albums by their time, date, or location. It can even be used to browse your Picasa images online.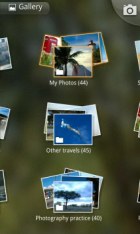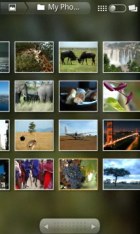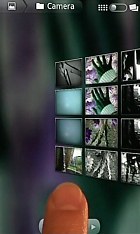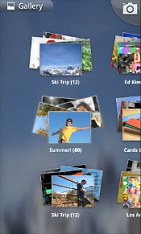 Cooliris 3D gallery integrates Picasa albums as well
If you want to see all that new stuff in action, you should definitely check out our Nexus One video roundup.
The final new thing in Android 2.1 is the new API that will give devs access to the Android 3D framework. That will surely bring along many 3D graphics applications and even games - much like on the iPhone. To showcase the new 3D features at the conference, Google demoed the upcoming Google Earth app for Android. It offers fluid graphics as you spin the Earth with your fingertip or fly through the landscape from birds-eye view perspective. Thanks to the new text-to-speech engine, you can even use your voice to search for places.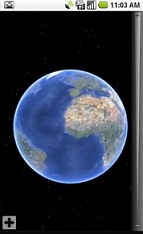 Google Earth in 3D coming soon to Android devices
How to get the Nexus One
HTC-made, the Nexus One will be the first Android smartphone (or even the first physical product) sold directly by Google themselves. Still, there HTC branding over it unlike the initial samples that leaked online.
No matter whether you want the Nexus One with or without a contract, there's no need to go to a store. You just need a Google account and a Google Checkout account to purchase and later activate the phone online.
Nexus One is the first phone to use that business model but there will be more. The ordering process even allows you to order a custom text engraved on the back for free.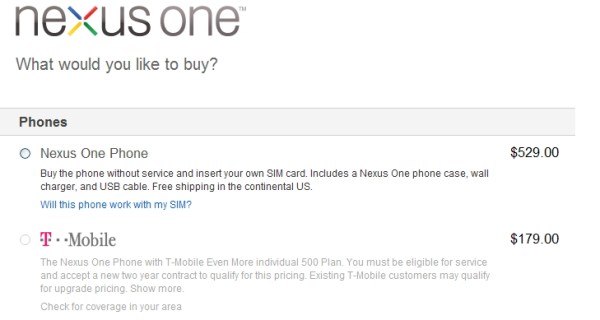 Google Nexus One is now available SIM-free and unlocked for 529 US dollars in the UK, Singapore and Hong Kong and US. The US is the only place where they're offering an operator deal as well - your can buy it with a T-Mobile plan for only 179 US dollars.
In Spring 2010 you will also be able to get it subsidized through Verizon Wireless in the US and from Vodafone in Europe.
You can learn more about the Nexus One at google.com/phone
A
Bro, Apple sold 1.6 million iphone because, it was famous for its PC hardware. Whereas Google was known as internet based marketing giant. It was difficult to believe that google would be successful in developing a good OS for mobile. But truth is, ...
w
one of my fren have 3gs iphone and i have nexsus one, he seems to be jealous when both of us start playing with our toys,have both phones in your hand compares which one is best,thats all
ADVERTISEMENTS