Samsung is shifting its PR machine in full gear to build up hype over the Samsung Unpacked event planned for March 14. It's no big secret that the company will introduce its Galaxy S IV new flagship there. Even the tag line of the teasers is not coy about it – "Be ready 4 the next Galaxy".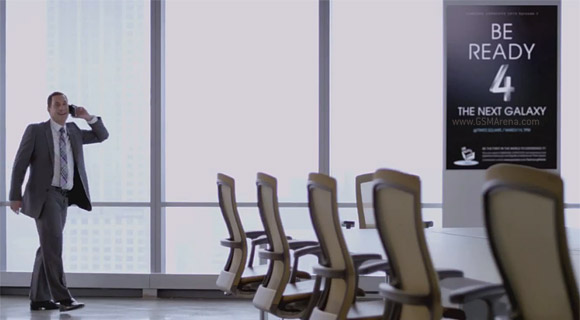 A week after the official announcement of the date for the Unpacked event, Samsung released this teaser video. The company is promising nothing short of "the most amazing product to hit the market since TVs went color".
Young Jeremy Maxwell hasn't been doing a terrific job at keeping the secrets of what's in the box – various tipsters have taken a peek and are reporting a 4.99" Super AMOLED screen with FullHD resolution, Exynos 5 Octa chipset with 8-core CPU (4x Cortex-A15, 4x Cortex-A7) and a 13MP / FullHD camera.
There's some speculation that the exec that walks into the room while on the phone is talking on a Galaxy S IV. That doesn't make much sense since the S IV is supposed to be a secret hidden in the box. Plus, all you can see really is something black and rectangular, so not very interesting.
The teaser ad ends with "to be continued..." so we can expect more videos soon.
R
Its a pen that turns into a phone/tablet you guys will praise me after March 14
a
Samsung surely has something to offer new but I doubt the "Octa-Core" thing isnt it too early for a mobile handset to prefer 8 cores? frankly i hate samsung for every other thing than its tech. "Just Waiting 4 htc One"...
R
I read somewhere that in today's tech consumer market, it's almost impossible for a company to make up lost ground. Case in point, HTC just introduced their 'Halo' device, the HTC One to rave reviews, yet everyone's seems to drooling for the yet to b...
ADVERTISEMENTS