Mobile Review's one-man Nokia rumor mill Eldar Murtazin has pushed out some details regarding the first fruits from the 'Microkia' (Microsoft/Nokia) team up, in the form of two new devices bearing the names W7 and W8.
Not only are they not exactly the most original names but the devices in question will apparently resemble the Nokia X7 and the N8 respectively.
Nokia apparently already has one working Windows Phone prototype in their possession, the W7. This X7 lookalike differs from it's Symbian sibling by its WVGA display, 8MP camera with autofocus and a Qualcomm QSD8250 Chipset. This (or something very similar to this) is most likely going to be the company's first WP7 device. Nokia targets availability by Q4 of this year, but there's a good chance that it might take until Q1 of 2012 to see it in action. In its current state the W7 is quite reminiscent of the HTC Mozart in terms of functionality, at least.
The followup to the W7 is naturally, the W8 and there is far greater speculation as this device won't be making an appearance until Q2 2012. However plans to make this a flagship imaging handset mean it has to have a strong skill set to stand out from the crowd. Using the N8 as the basis this one is said to pack a 12MP camera, a Qualcomm dual-core CPU and an Adreno 320 GPU. Specs are most likely going to change before the official release, but this one certainly looks promising.
In total Nokia plan to push 12 new devices out across 2012 (whether this includes the W7 is unclear) with mentions of the third and fourth WP7 handsets in the lineup consisting of a QWERTY candybar with a touchscreen, akin to the E71 or E6, and a 'cheap' touchscreen device probably mimicking the abilities of the W7 but featuring lesser build quality, and weaker imaging capabilities.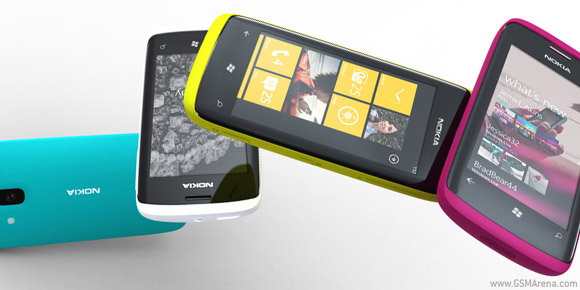 The Windows Phone 7 Nokia concept from MWC 2011
It seems they could try to make a bigger impression with some completely fresh designs to really shout about the birth of the WP7 Nokia but what we actually receive could still impress. Perhaps the concept they mocked up for MWC 2011, (a concept that so well embodied both Nokia and WP7) will make a reappearance as something more tangible soon.
?
What will be the expected price for both the phones i.e W7 & W8???
d
Well done to your web, complete and relevant info that post. Perhaps sometime to exchange the latest information. Happy to visit your blog. I wait behind the visit on my web Techno Over Success always for you
s
now thats what I want . .this two great combinations will rock the OS market..!! i hope my loving brand NOKIA will beat iphone . . . .lets see what happens in the comming year..!!
ADVERTISEMENTS