Samsung was strangely vague about the image sensor in the Galaxy Note 4. It bragged about its in-house ISOCELL sensor in the Galaxy S5, but not a peep about who made the Note's sensor. The deal was resolved with the simplest solution – an eyes on test, which found a Sony IMX240 sensor.
Or was it? New evidence suggests there's more than a difference in chipsets between the two Galaxy Note 4 versions – the Snapdragon 805 one and the Exynos 5433 one. Using a hidden service menu the camera firmware version was checked to find that the two different models report two different things.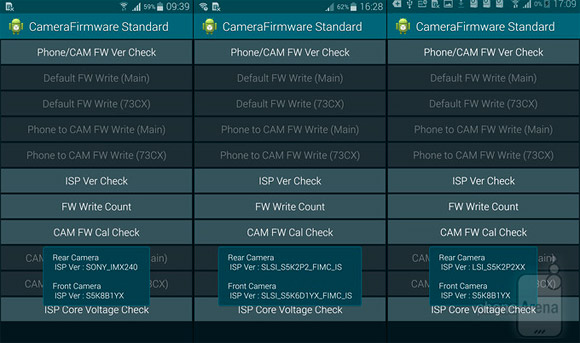 The Exynos-based Note 4 version string is very similar to what the Galaxy S5 reports, while the Snapdragon variation just outputs SONY_IMX240.
You can check your Note 4 phablet by opening the dialer and typing *#34971539# and hitting the ISP Ver Check button.
Anyway, this raises the question – does the Samsung Galaxy Note 4 (Exynos) camera support phase-detection autofocus? The sensor does and it is used in the Galaxy S5. Samsung tries to equalize performance between the Snapdragon/Exynos versions but the ISP version does differ from that of the S5.
D
Why 1080p? 2k displays make a world of difference on large amoled displays because it completely hides the pentile matrix. The performance isn't hindered that much either by the high resolution on my note 4.
?
which one is better in term of camera?
ADVERTISEMENTS