The Galaxy Z Flip2 will not be unveiled alongside the Galaxy S21, will launch after Q1 instead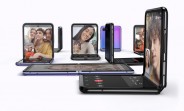 The launch of the new Galaxy S flagships was pulled forward to January, but a report from The Elec suggests that the new Galaxy Z Flip will not be joining the S21 series on stage. In fact, it will come out only after the January-March quarter.
This year the Galaxy S20 and Z Flip were unveiled at the same Unpacked event in February. So, the thinking was that the plan is the same for next year, but Samsung seems to have decided against a joint launch.
One reason may be to spread out its devices to keep them from cannibalizing each other's sales. Especially since there will be no Note next year with the S21 Ultra getting S Pen support. Actually, it will be the Galaxy Z Fold3 that takes over as Samsung's premier phone. But that's coming in the second half of 2021.

The current Samsung Galaxy Z Flip
Next year will start with the Galaxy S21 trio. Samsung has reportedly ordered an initial batch of 6 million units to have at launch day. That's about the same as previous years as Samsung expects foldable phones to be the ones driving growth next year.
The company will expand its foldable line-up to as many as five models, but we haven't heard much about any of those aside from the Z Fold3. We've barely heard anything about the Z Flip2, which lends more credibility to these reports of the delayed launch.
Anyway, it wasn't just the Z Flip that was at the Unpacked event in February, Samsung also announced the Galaxy Buds+. Their successors, likely called Galaxy Buds Beyond, should be unveiled on schedule as part of the S21 event in January. They will have much-improved water resistance, there's no word on active noise cancellation for now (note: the Buds Live are a separate product line rather than a sequel to the Buds+).
D
So... The Flip 2 and next Fold will launch around the same time? I guess it's likely we'll see a big design change then. Edge to edge display, under display camera, pen on the big one... Will be an interesting launch.
b
With the size of new phones there's no need for "Note". And in the article the support for S Pen on S21 Ultra was mentioned...
ADVERTISEMENTS