The third quarter of 2018 saw less phones shipped globally than the same quarter in 2017 and marked the fourth consecutive trimester of shipments decline. Counterpoint estimates that 386.8 million phones were shipped globally in Q3 of 2018, down 3% from Q3 of 2017, while IDC estimates the decline at 6%.
Samsung remained the top smartphone vendor with 72 million shipments, a 13% drop from last year's Q3, while Huawei overtook Apple to claim second with 52 million shipped phones. Apple shipped just under 47 million iPhones.
Apple's shipments remained flat but revenue grew 29% thanks to the record high average selling price of $793 per iPhone.
HMD nearly doubled its shipments to 4.8 million but it still only holds 1% of the market.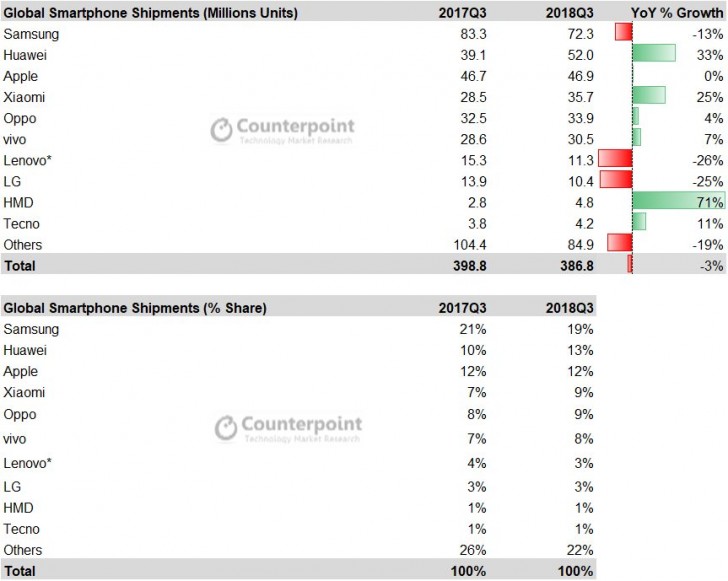 Xiaomi, Oppo and vivo saw a large improvement in markets outside of China. The three combined for around 100 million shipped phones.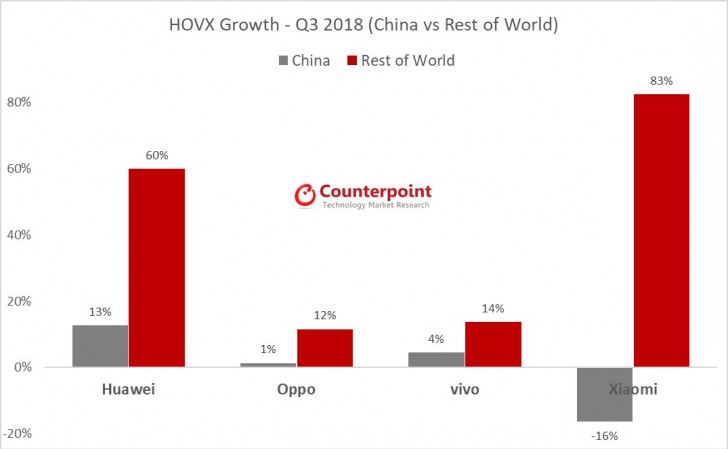 The global smartphone market is in decline for six straight quarters now but IDC expects it to bounce back in 2019.
?
Lol Sony..... Removing jack was a dumb move and overpricing their junk.
R
Glad to see Lenovo sink. As for Samsung, I'm glad aswell, because of - Bixby and trying to force their consumers to actually use it. And something gives me feeling that Apple could start to sink aswell...
ADVERTISEMENTS