Microsoft officially announced golden versions of the Lumia 930 and Lumia 830 in early January this year, saying they will be available "soon." Well, not quite soon but the Nokia Lumia 930 in Gold is now available from select retailers in Europe, the Middle East, the Asia Pacific and Africa.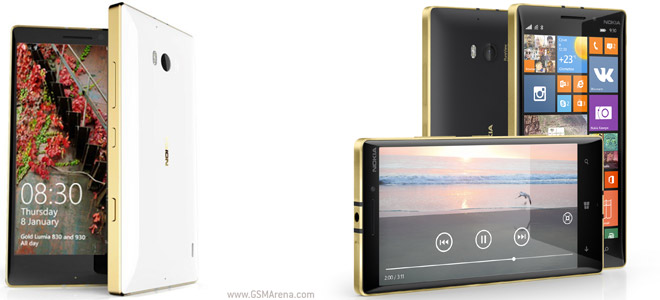 The Nokia Lumia 930 in Gold comes unlocked. Unfortunately there's no pricing info, but the regular color options are about £360 in the UK and €350 in mainland Europe. The plastic panels can be Black or White, while the metal rim of the phone has a golden hue.
The Nokia Lumia 830 Gold Edition is available too, in Black Gold and White Gold. In Germany, for example, it goes for €300.
J
Where did you buy it? i want to buy it in singapore
U
Love my shiny new 830 white/gold :)
D
Not quite excited...first because those two are quite old and Microsoft should have done this a long time ago...they should bring a new installment of their flagship and make that in Gold..Gold Lumia 940! Secondly, i have never really liked Gold on...
ADVERTISEMENTS