The Google Store is turning one, so the Nexus 5X and 6P come with $50 off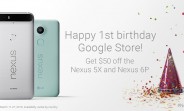 If are currently on the market for a shiny new Nexus device then now's definitely the time to strike. The Google Store is celebrating its first anniversary and is offering $50 off both the Nexus 5X and the Nexus 6P. This means that you can get the former for as little as $299 and the latter starts at $449.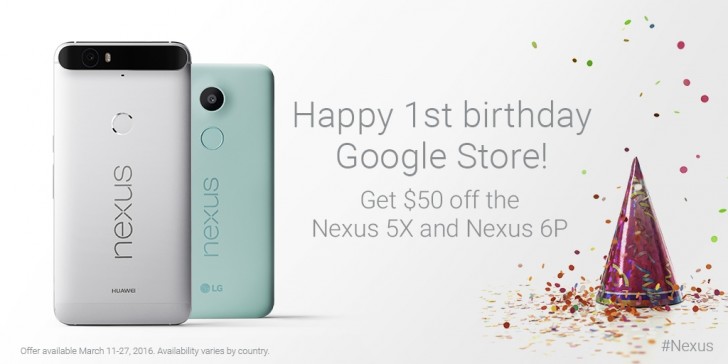 The deal is also not limited to the US alone, as the Canadian store has the offer as well. The search giant is pretty generous in terms of time constraints, as the deal will be live all the way to March 27. It is also worth noting that the slashed price does not affect other current promotions for the devices. This means that purchasing a Nexus 6P will still get you $50 of credit towards a Huawei Watch.
And as an additional deal reminder, signing up to Project Fi can get you up to $150 off the Nexus 5X and over in India, the device also comes with a special price - about $60 down and now retailing for INR 27,900 ($415) for the 16GB model .
M
Ridiculous. 2GB of RAM is perfectly fine. My Note 3 still runs like a boss and sometimes I feel it's faster than my Note 5.
G
not true at all..... it depens on the kind of usage ... why id like to have 2gb free of rasm for usage if im not going to use them ..... insted i need powerfull processor and graphic card ...2 ram is more than anough having in count that u get over ...
?
You should be mad to buy a phone with only 2GB of ram in this day and age. Anything more than $200 for such a low end phone is a waste. You can find 3GB phones from China and as most people who know how android works wold tell you, ram is the most im...