The HTC One superphone just went official and we already have a list of countries and operators that are getting it. Hold on to your hat, it's a large list.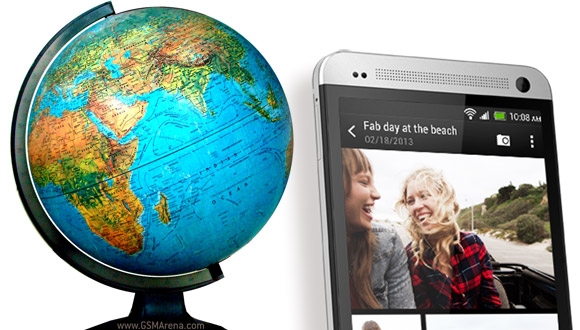 Click on a country to view the carriers that will carry the HTC One.
USA
AT&T
Sprint
T-Mobile
Cincinnati Bell
Best Buy
Canada
Rogers Communications
Bell Mobility
TELUS
Virgin Mobile Canada
Germany
1&1 Germany
E-Plus Germany
MSH Germany
O2 Germany
PhoneHouse Germany
T-Mobile Germany
Vodafone Germany
Spain
Orange Spain
Vodafone Spain
Yoigo Spain
Hungary
Telenor Hungary
T-Mobile Hungary
Vodafone Hungary
Austria
A1 Telekom Austria
H3G Austria
T-Mobile Austria
Poland
AB Poland
T-Mobile Poland
Orange Poland
Play Poland
Polkomtel Poland
Portugal
Optimus Portugal
TMN Portugal
Vodafone Portugal
France
Bouygues Telecom France
Orange France
PhoneHouse France
SFR France
Italy
H3G Italy
TIM Italy
Vodafone Italy
Wind Italy
UK
Carphone Warehouse UK
EE UK
H3G UK
O2 UK
Phones4U UK
Vodafone UK
Ireland
Meteor Ireland
O2 Ireland
Vodafone Ireland
Norway
Elkjöb Norway
Netcom Norway
Telenor Norway
Sweden
Dustin Sweden
El-Giganten Sweden
H3G Sweden
PhoneHouse Sweden
Telia Sweden
Telenor Sweden
Finland
Elisa Finland
Gigantii Finland
Netherland
Belcompany Netherlands
KPN Netherlands
PhoneHouse Netherlands
T-Mobile Netherlands
Vodafone Netherlands
Denmark
El-Giganten Denmark
H3G Denmark
TDC Denmark
Telia Denmark
Telenor Denmark
Belgium
KPN Belgium
MSH Belgium
Proximus Belgium
Telenet Belgium
Switzerland
Mobilezone Switzerland
Orange Switzerland
Sunrise Switzerland
Swisscom Switzerland
Czech Republic
O2 Czech
T-Mobile Czech Republic
Vodafone Czech Republic
Russia
Euroset Russia
Megafon Russia
MTS Russia
Svyaznoy Russia
Tele2 Russia
Greece
Cosmote Greece
Vodafone Greece
Wind Greece
Luxemburg
Romania
Cosmote Romania
Orange Romania
Vodafone Romania
Bulgaria
Global Bulgaria
Vivacom Bulgaria
Macedonia
One Macedonia
T-Mobile Macedonia
VIP Operator Macedonia
Serbia
Telenor Serbia
Telkom Serbia
VIP Mobile Serbia
Ukraine
Allo Ukraine
Citrus Ukraine
ERC Ukraine
Mobilochka Ukraine
MTI Ukraine
Yug Contract Ukraine
Albania
AMC (Cosmote) Albania
Eagle Mobile Albania
Plus Communication Albania
Vodafone Albania
Turkey
Avea Turkey
Turkcell Turkey
Vodafone Turkey
Kazakhstan
Beeline Kazakhstan
K-Cell Kazakhstan
Bosnia & Herzegovina
BH Telecom Bosnia & Herzegovina
HT Eronet Bosnia & Herzegovina
M-Tel Bosnia & Herzegovina
Montenegro
M-Tel Montenegro
T-Mobile Montenegro
Latvia
DT Mobile(TS) Latvia
Bite Latvia
Tele2 Latvia
Lithuania
Bite Lithuania
Omnitel Lithuania
Tele2 Lithuania
Estonia
Elisa Estonia
EMT (TS) Estonia
Tele 2 Estonia
Belarus
Life Belarus
MTS Belarus
Velcom (TAG) Belarus
Slovakia
Orange Slovakia
T-Mobile Slovakia
Slovenia
SiMobil Slovenia
Tus Mobil Slovenia
Telekom Slovenia
Croatia
Tele2 Croatia
T-Mobile Croatia
Vipnet Croatia
Malta
Go Malta
Melita Malta
Vodafone Malta
Cyprus
Moldova
China Mobile
China Unicom
China Telecom
?
HTC floorsystems is now available in the Philippines
M
To: Management HTC Sweden> Hi Sir, Hows the business going on? I'm was working here in Kuwait as a tecnical supervisor in a company name KLCC for floor system & solution. and i'm very sadend and disappointed when its closed last January 2013 ...
?
Is it available in India ??
ADVERTISEMENTS