The iPhone 13 Pro Max received the DisplayMate Best Smartphone Display Award
DisplayMate examined the new ProMotion-enabled display on the iPhone 13 Pro Max the findings were nothing but positive – in fact, Apple's new flagship earned the DisplayMate Best Smartphone Display Award along with an A+ grade. It set or match 12 smartphone display performance records.
Each iPhone 13 Pro Max display has been calibrated at the factory for color and contrast accuracy. The phone supports sRGB and DCI-P3 content and renders both with near perfect accuracy. The display scored a 0.5 JNCD (Just Noticeable Color Difference) for both formats (values less than 1 means you can't see a difference with the naked eye).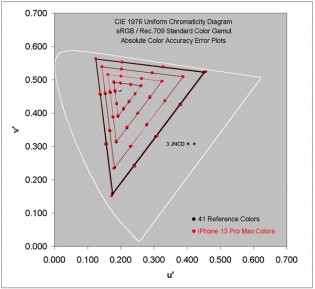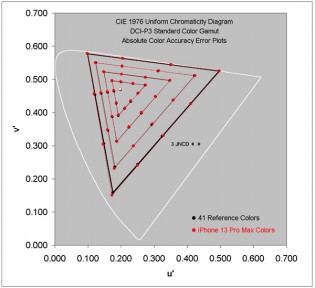 Absolute Color Accuracy Plot: sRGB • DCI-P3
The accuracy of the color rendering and the intensity scale was not affected by the image content, that is with a different Average Picture Level (APL). With auto brightness enabled and a full white screen (APL 100%), the display put out 1,051 nits for both the sRGB and DCI-P3 color gamuts. With auto brightness off the top was 846 nits.
But that's not all, the iPhone 13 series supports HDR10 and Dolby Vision content too. The peak brightness for HDR content was 1,200 nits. The screen reflects only 4.6% of incoming light, the lowest measured by DisplayMate so far. Also, True Tone mode adjusts the white point and color balance of the screen depending on ambient light.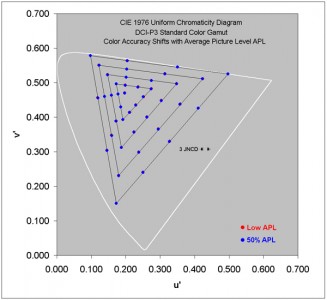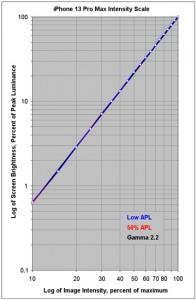 Testing for color and intensity variations from changing Average Picture Level
The display holds up well when viewed at an angle too, losing 24% of its brightness when held at 30º and experiences a white shift of 3.1 JNCD at that angle. Also, it works with polarized sunglasses whether you hold it in portrait orientation or horizontally.
Check out the DisplayMate report for more details.
i
your comments are kinda discriminatory to android users you know?!
?
I bought iphone becos my gf has one and she insisted we use the same phone.. lol.. but eventually she finds me using my android phone more than iphone becos it suits my demand better. But for her, there is no need for android. She uses phone for came...
ADVERTISEMENTS