Not long before, there were just a couple of Android phones that offered proper haptic feedback that could go against Apple's iPhones. But in the last two or so years, even more affordable Android phones started incorporating better haptic engines and Meizu follows suit.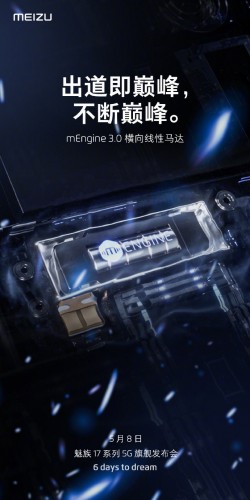 After a series of teasers about cameras, loudspeakers, high-refresh rate display and charging speeds, the company decided to let us in on the so-called mEngine 3.0 haptic feedback motor. The Weibo post reads "mEngine 3.0 horizontal linear motor" but we can't be entirely sure what that means. One would assume, though, that the new engine should provide more precise and powerful vibration.
?
You haven't used the haptic motor on gaming phones. IPhone is 100 times worse compared to that.
?
The haptic on the iPhone is best. Can't go back to normal vibration motors
D
I'll keep that in mind and try to test it if I get my hand on an iPhone, my sister in law have an iPhone 6 but sadly they removed the Jack since the 7, so I can't test it with her own... Funnily enough, if people weren't obsessed with ultra thin...
ADVERTISEMENTS