If you thought that buying into a Lumia 900 isn't worth it without the WP8 side-salad you might want to read on. Nokia's WP flagman has received a healthy price cut and is now available for only $49.99 on a two-year deal with AT&T.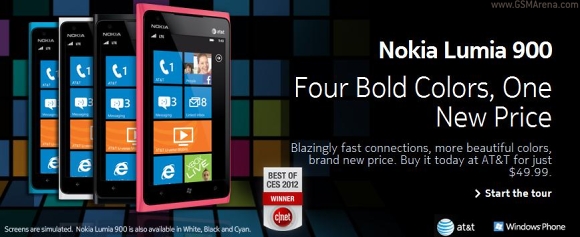 The updated price comes in time for the pink version of the Lumia 900 too.
The Lumia ran into some turmoil when Windows Phone 8 was unveiled because it was deemed unfit to support it. This spurred a logical backlash within Nokia's faithful fans because they felt cheated into buying a destitute product. But the Lumia 900 will receive some WP8 goodies via the WP 7.8 update. Add that to the competitive pricing and things are looking good.
The Lumia sports a gorgeous 4.3" ClearBlack AMOLED display of WVGA resolution, LTE (for the US), 8 MP snapper, a single-core 1.4 GHz Snapdragon processor and a beautiful polycarbonate body. If you like you could brush up on the Lumia 900 in our full-fledged review.
If you live in the US and are interested you can buy the phone here.
Source
D
are you using Google translate? Because there are so many fragmentations on your english. Haha Google translate honestly is the worst translator me and my friends know.XD no offense.
D
yoh smartass! FYI, windows 8's already running on some computers. Some of the concerned users got plenty of GOOD comments about it. Well if you'r talking about UI, MeeGo has the best UI and awesome multitasking if you know it. Yet WP7 is the smoothes...
D
The missing feature are left out intentionally, its not a technical challenge to have them in the first place. I have been using it with Nokia Symbian Smartphone, N95 remember.
ADVERTISEMENTS