Will wonders ever cease? First Apple embraces NFC, now the new iMacs have upgradeable processor and RAM. Okay, the 27" iMacs from 2015 made it easy to upgrade RAM, but the 21.5" version was locked down. That changes with the new 21.5" models, even if it's not an easy process. This is the first time we see an iMac CPU that isn't soldered since 2012!
Here's the deal. All-in-Ones like the iMac were not made to be easily serviceable, so you'll have to be careful as you pry open the display (it's secured with adhesive tape). Things get a little tricky as you remove the right speaker, but it's smooth sailing from then on - the motherboard comes out to reveal a set of SO-DIMM slots.
Yep, that's laptop RAM (the pre-installed modules were SK Hynix DDR4). And you can swap out the CPU, it's installed in a regular LGA 1151 socket. This means that down the line, you can fish out a more powerful Kaby Lake processor.
The base 21.5" iMac comes with a dual-core i5, that's going to age quickly. Of course, Apple offers limited driver support, so you can't just grab any 1151-compatible CPU (though we imaging any Kaby Lake should work fine).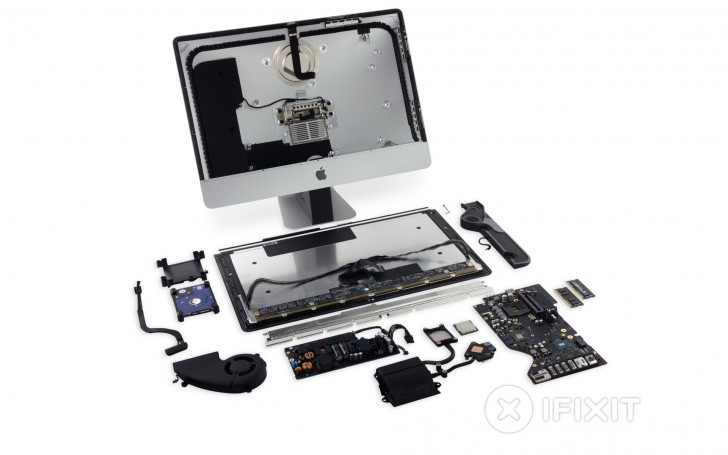 The AMD Radeon Pro GPU is soldered to the motherboard, however. Still, Mac OS High Sierra supports external GPUs over Thunderbolt 3, so you should be fine on graphics (it'll cost you, though).
As for memory, the 2.5" HDD is easily upgradeable, but any flash storage (whether an SSD or a part of the fusion drive) is soldered.
If this upgradeability of the 21.5" iMac has you curious, hit the source link to see iFixit pull the computer apart. The team gave it a repairability score of 3/10. Part of that is the difficulty of getting things out and putting them back in (you need to replace the adhesive tape), part is the soldered SSD, also the Retina Display is fused to the glass (making it more expensive to replace).
.
Still wish Apple have ports for easy upgrade but all those ports and connectors add side and cost.
H
Let's not kid ourselves here. The only gateway to the circuit parts is through the screen, that is glued, fused & sealed. This is as good as not user replaceable or upgradeable. What do you intend to use to glued it back as new?
ADVERTISEMENTS