We can add a new entry to the list of Marvel-themed codenames for HMD phones – Doctor Strange. Unofficially, this phone is expected to be marketed under the name Nokia 3.4 and it is part of the upcoming ".4" series, which includes the Nokia 2.4 (aka Wolverine).
The Nokia 3.4 was spotted in Geekbench results, which list the chipset as "Qualcomm Qualcomm" (that's not very helpful, is it?). but the score matches the vivo Y20 result – a phone that is expected to be equipped with the new Snapdragon 460 chipset.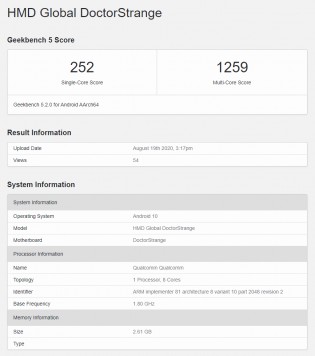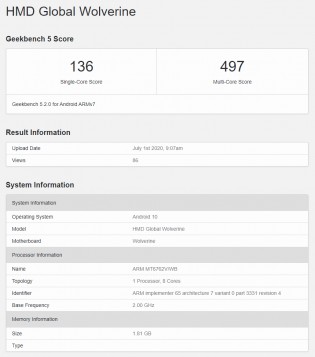 Geekbench 5 results: Nokia 3.4 (Doctor Strange) • Nokia 2.4 (Wolverine)
The Y20 motherboard was listed as "Bengal", a name that has been associated with the S662 instead. Both chips are nearly identical, differing mainly in clock speed (the advantage goes to the 662, naturally).
Either way, with four Cortex-A73 based large cores, the Nokia 3.4 is flexing bigger muscles than its 2.4 sibling, which will use the aging Helio P22 chipset instead (with all A53 cores). The 3-series model has more RAM too, 3 GB on the unit that ran the test.
These two Nokias, plus the mid-range 6.3 and 7.3, are expected to be unveiled at IFA, which starts on September 3.
M
Neither the N97 or N73 were HMD phone?? Nokia was bought by HMD in 2016. N97 came out in 2009...
Q
Nokia (now HMD) has been clueless on smartphone hardware since .... FOREVER! Just look at N73 or N97; both are capable smartphones, but bottle-necked by Nokia's cheapskate decision to give it VERY underpowered CPU & low RAM size. Ev...
Q
LOL... Both CPU & GPU of SD660 is better than even the SD665 & SD662! Especially GPU; Adreno 512 is capable of supporting games up to QHD, while Adreno 610 in SD460 is very likely to be downclocked version of Adreno 610 in SD665/662 which...
ADVERTISEMENTS