Mysterious Nokia D1C Android smartphone spotted… hold on, that's not right. The D1C is actually a tablet - surprise! Some early specs came from AnTuTu, but that benchmark doesn't detect screen size.
GFX Bench does, however, and it reported a massive screen - 13.8" with 1080p resolution. This will clearly be an "at home" tablet similar to the Samsung Galaxy View and the Alcatel Xess. Even so it has a SIM card slot.
The Nokia D1C is powered by an entry-level Snapdragon 430 chipset (8x Cortex-A53, Adreno 505) with 3GB of RAM and 16GB storage. On the plus side, it will run Android 7.0 Nougat and will have a good 8MP/1080p selfie camera for all your video chatting needs (plus a 16MP/1080p camera on the back, assuming you can lift the tablet and frame the photo).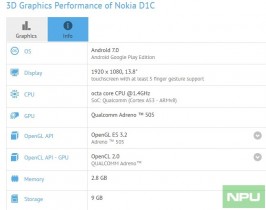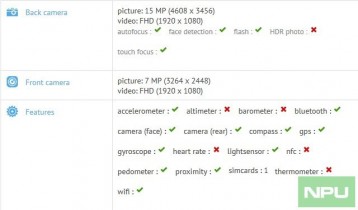 Nokia D1C specs as detected by GFX Bench
The Nokia D1C will be the second Android tablet under the Nokia brand, but we're still waiting for the Nokia brand to return to smartphones. If you haven't heard, it is not Nokia-proper that builds these devices, but instead, it's a product of the collaboration between Nokia and Foxconn.
D
LOL. The most EASY way to END an argument. Look, I don't care if u use SONY, Nokia, or WTF brand it is, my point is, U are talking BULLSHIT... Nokia phone called durable? Yes, it was in the early 2000, when they launched big, fat,ugly monoc...
im a nokia fanboy? That's strange considering I have the sony z5. Ah I know.. just because i happen to point out that nokia phones are durable, im automatically a nokia fanboy. Wtf is this logic?
D
"most phones are easy as pie to break just with one drop" I once have 5800 XM and accidentally slip from my breast pocket to the asphalt road. Know what happens? IT BREAKS as easy as pie. The touchscreen broken, even after get fixed, the signa...
ADVERTISEMENTS