AT&T has begun accepting preorders for the Nokia Lumia 1520, asking $199 for it if you sign a contract. Without contract, the device will set you back $549.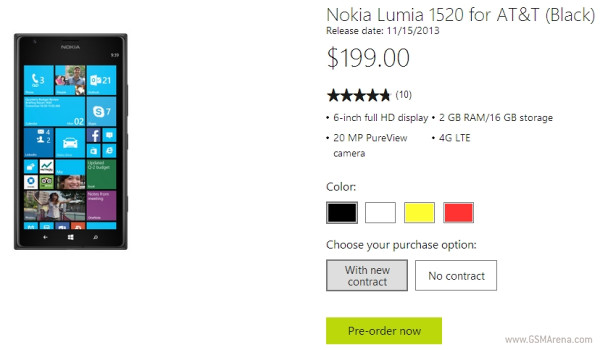 The Lumia 1520 was announced last month at Nokia World 2013, marking the company's first venture into the realm of 6-inch smart devices, with an international price tag of €700 unsubsidized.
AT&T has exclusivity on the Lumia 1520 in the US, following similar exclusivity agreements regarding the Lumia 900, 920, and 1020. Preorders are scheduled to ship on November 15, with available color combinations including black, white, yellow, and red.
For more on the 6-inch Windows Phone-powered tablet from Nokia, check out our full hands-on.
D
poor tech.chief - you cant take on anyone in a battle of logic, so you have to lower the playing field through childish antics
D
windows builds their operating system for new hardware Like windows 8, where the whole selling point is based on touch enabled devices. The shame. Not falling for their mobile OS. Rather stick to a system where I control things, not a corporate money...