Ni Fei, CEO of ZTE's nubia sub-brand, has officially confirmed that the nubia X will be unveiled on October 31. The teaser doesn't offer much beyond the date and a stylized X, but the most recent leaks lead us to believe that this is the dual screen nubia we've been seeing lately.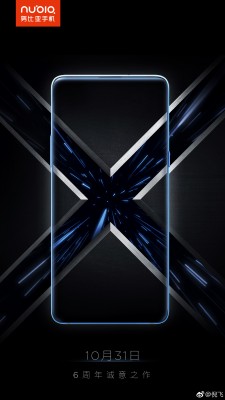 The nubia X will be unveiled on October 31
We've been calling this phone the "nubia Z18s", but clearly a new name is in order (it's quite different from the regular Z18, an "s" is not enough). Going by TENAA, the screen on the front is a 6.26" LCD panel (1,080 x 2,280px). It doesn't have a notch as there's no selfie camera. That's because you can use the main camera and the screen on the back – 5.1" OLED (720 x 1,520px). It's a 24+16MP camera, by the way.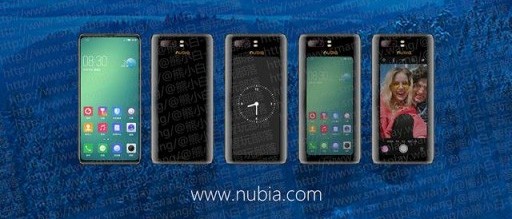 In one leak we've seen indications that the rear screen will support Always On and will be able to show the full Android UI, so you can find other uses for it beyond a camera viewfinder and checking the notifications.
R
I think that having two standard screens like this is useless. If a second screen is added I like how the yota phone did it with an e-ink type display. It serves a distinct enough functionality to warrant the feature, unlike a second standard display...
Yeah, then the notch becomes useful tbh. As for this dual screened phone, I'm pretty happy with the idea. Granted, a Foldable display is cooler in my opinion, but this is much more accessible. Kudos to ZTE, glad they're not dead
ADVERTISEMENTS