The OnePlus Nord 2 will have a custom Dimensity 1200-AI chipset, the company confirms
OnePlus has boarded MediaTek's Dimensity 5G Open Resource Architecture program, which allowed it to design a custom version of the Dimensity 1200 chipset for the OnePlus Nord 2. It is called the "Dimensity 1200-AI", which should tell you what kind of customization work was done on the chip.
The beefed up AI hardware on the chip will be used to improve the photography experience, enhance the display and lower response times during gaming.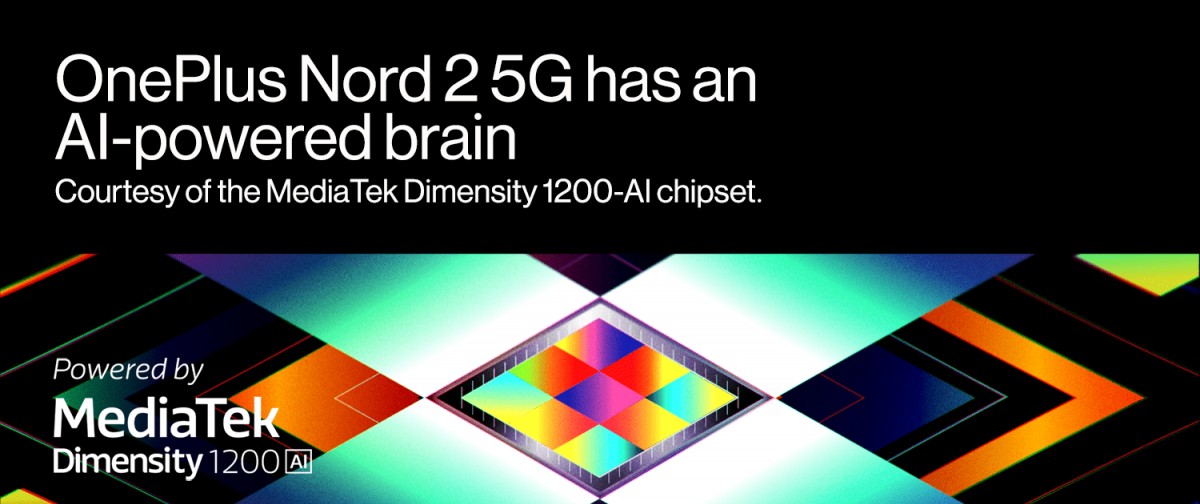 The AI Photo Enhancement mode will recognize up to 22 different scenarios and apply the best settings for them, including optimal settings for night time and other low-light shots. The related AI Video Enhancement mode will enable live HDR during video recording.
The custom chipset has special support for DOL-HDR ("Digital OverLap"). Such a sensor is already in use in the OnePlus 9 series. Unlike staggered HDR, DOL-HDR can capture several exposures simultaneously to reduce ghosting.
Smart Ambient Display uses AI for smarter automatic brightness control that takes into account the user's surroundings as well as the content on the screen. Speaking of content, the Dimensity 1200-AI will be able to upscale standard definition, standard dynamic range videos to HD (AI Resolution Boost) and HDR (AI Color Boost).
The OnePlus Nord 2 will be available in India through Amazon, you can see the landing page with teasers here.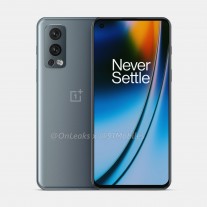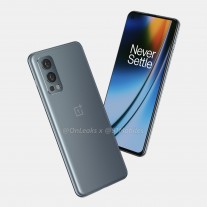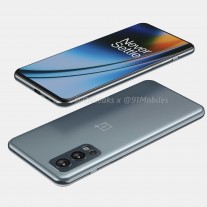 Unofficial OnePlus Nord 2 renders
While the only officially-confirmed spec so far is the 1200-AI chip, the Nord2 features leaked last month. It will have a 6.53" 90 Hz 1080p+ AMOLED display, 4,500 mAh battery with fast charging (power TBD).
As for the camera department, the phone is said to use the 50 MP Sony IMX766 sensor. However, it is OnePlus 9's other sensor, the IMX789, that supports DOL-HDR, so take these specs with a grain of salt. Anyway, the phone should also have an 8 MP ultra wide-angle camera and a depth sensor on the back, plus a 32 MP selfie camera.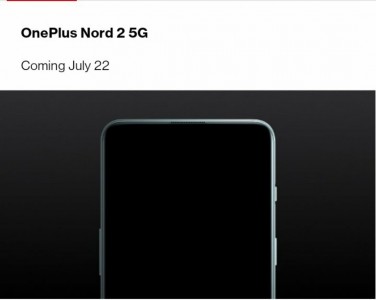 The OnePlus Nord 2 5G is coming on July 22
The Nord 2 will launch on July 22 according to the latest info. That is also when a competition run by OnePlus.in ends. Previous rumors reported anything from July 9 to the end of September, but with the Amazon landing page and a Twitter teaser campaign rolling out, the July 22 target should be it.
N
"Unlike staggered HDR, DOL-HDR can capture several exposures simultaneously to reduce ghosting." They are basically the same stuff but with different names attached to it.
?
Going by the most comments, its not going to be an easy going for once good going One Plus, as lots of negatives are going up against it!
?
Then suggest one who doesn't cheat with prices or any other cheatsheets?
ADVERTISEMENT