The latest rumors about the Sony Ericsson PlayStation Phone is that it won't play PSP games and won't sale under the PlayStation logo. The Android 2.3 running gaming device will be part of the high-end XPERIA family instead.
Yesterday we already reported that the Sony Ericsson PlayStation phone will be unveiled on the 9 December.
But what's so special about this phone then besides the gaming controls and the rumored specs we already covered? Sony Ericsson is said to be preparing a whole line of exclusive games developed by some of the best Sony partners.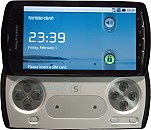 Sony Ericsson PlayStation phone
The game distribution will be via separate service or a dedicated section in the Android Market. Whatever Sony Ericsson chooses, the games will be exclusive and compatible only with that particular phone. The average game price is rumored to be sub-10 US dollars.
The tipster who brought all this info says the phone is nowhere near ready, perhaps the launch will take place at the MWC 2011 upcoming February. The tipster also reports Sony Ericsson targets a 500 US dollars retail price with 5 games included.
So it might turn that this rumored PlayStation phone won't be branded as PlayStation, but the gaming factor remains. It will run on the latest Android too, but if it's the PlayStation heritage that warms your heart you can always install the unofficial PlayStation 1 emulator PSX4Droid and play some classics.
V
Looks like they just needed to add psp game playability and it would be probably success :) too bad
d
you guys just need a mobile of 10 gb memory , and 1 gb of ram ,and ppsspp from google play then you can play games on android same as on your psp. brands are also imp like sony,htc one,samsung s4
j
i think you should install first a emulator before you can be able to play P.S games!