Xiaomi's first Android Go smartphone is official. The Redmi Go is based on Android 8.1 Oreo (Go Edition), comes in Black and Blue, and is heading to Europe and the Philippines in February.
The phone packs a modest 5" 1280x720px LCD of the conventional 16:9 aspect, an 8MP main camera with LED flash and a 5MP selfie snapper.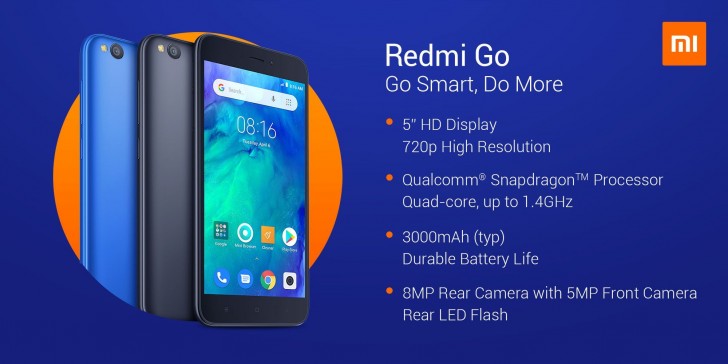 The Redmi Go is powered by a Snapdragon 425 with four Cortex-A53 cores running at 1.4GHz. There's 1GB of RAM and either 8GB or 16GB of storage, which can be expanded with a microSD card. The Redmi Go actually employs a hybrid slot so you can choose between extra storage and dual SIM support, but can't have both.
The battery on the Xiaomi Redmi Go has 3,000mAh capacity, which is very generous considering the tiny screen and modest chipset.
The Xiaomi Redmi Go will go on sale in February at a price of €80 in Europe. Philipines pricing is yet to be confirmed as well as availability in other markets.
L
Omg, do you even read? I said not discontinued. J series is dead. It is still on sale only for the older model from last year and previous years. There will be no more J series from 2019 onwards! Period. Geek my butt. You dont even know basic.
G
I went to a store yesterday and saw the J4 core, J4+ and J6 for sale. Dead? When a product is discontinued, Samsung would take down that product page from their website. I thought someone on a phone geek forum would at least know something so ba...
ADVERTISEMENTS