The Ulefone Armor 12 could be the first rugged phone to use the new Dimensity 1200 chipset. It will launch in June and will be the most powerful Ulefone yet.
The 6nm chipset will be paired with 12GB of RAM, while current models from the company typically top out at 8GB. And it will have 256GB of storage, which is double what previous models offer.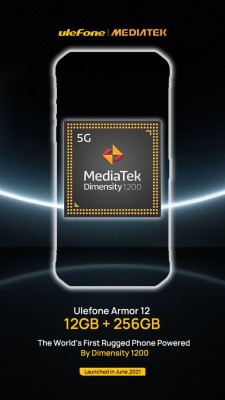 The Ulefone Armor 12 may become the first rugged phone to use the Dimensity 1200
The Dimensity 1200 has fast 5G connectivity (up to 4.7Gbps) and a Cortex-A78 core that runs at 2.6 GHz. That will put it well ahead of the company's current top offering - its first 5G phone from late last year, the Armor 10 5G, which is powered by the Dimensity 800 chip (with 8/128GB memory).
We're in for quite a wait before the Armor 12 goes live, but expect more details to be teased before June.
L
What's this? A flagship armored phone!? Now that's what I'm waiting for. Enough of this low spec armored phone bull. Phones like this deserve flagship chips only.
?
Have the Armor X7 Pro. Can do it all, fast enough and cheap.