Only a few weeks back we heard for the first time of Motorola Shadow. Now rumor has it that it will actually become Google's next Android based device, namely the Nexus Two. That aside, we have something more to share with you: a couple of images revealing Shadow's design, QWERTY keyboard and huge touchscreen display.
There are some pretty interesting things a man could learn over at the Mobile01. That is where the Shadow image and information were leaked. Reportedly, the Motorola Shadow will be only 9mm (we suspect that this is actually a typo, considering the QWERTY keyboard) thin and will feature a huge 4.3" touchscreen of 850 x 484 pixels (or more probably 854 x 480 pixels), HDMI port and will pack an 8-megapixel snapper capable of 1080p video recording.
Now, a glance at the new images reveals that the Motorola Shadow (or should we say Google Nexus Two) will also have a side-slide QWERTY-keyboard and an enormous wrist strap eyelet. Unlike the all-black MILESTONE/DROID, the Shadow will apparently come with a black front, white keyboard and some red accents.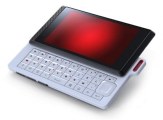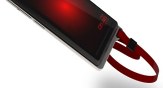 More images of the rumored Motorola Shadow
It is still unknown if the Shadow/Nexus Two will run the Android OS v2.1 or a newer version, maybe the rumored Froyo (comes from "frozen yogurt").
And while we're at it, there is one more Android based Motorola device that leaked these days. Of course, we mean the Ruth (a.k.a. Motorola MB511) which specs have been spotted in company's own user agent profile database.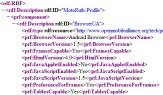 Nothing thrilling in the Motorola Ruth specs
Unfortunately, there's nothing thrilling to see: the Ruth will be a GSM/WCDMA with a Qualcomm MSM 7200A 528 MHz processor and MOTOBLUR-ed Android OS v1.5 aboard. The low resolution screen (of only 240 x 320 pixels) along with the other specs suggests that the phone will be competing with affordable devices such as the HTC Tattoo.
C
Phone looks real nice... been an iPhone user for a year now and love it but getting a little fed up with Apples restrictions....that being said the keyboard on this phone is a modified QWERTY...The letter P is way off in a corner and the return and b...
r
Phone looks amazing I can't wait til it gets released for Nexus 2. Just wish it didn't have that loop there for the strap.. Hate how it looks..
U
Perfect phone that I would go and buy ASAP if it had AMOLED screen and the Direction pad on the LEFT instead of right
ADVERTISEMENTS