The Samsung Gear S2 now has a QWERTY keyboard and a message center is coming soon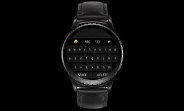 The Samsung Gear S2 definitely stands out among the smartwatch crowd, both in terms of design, controls and an alternative software approach. Straying away from the pack - what looks like a surefire recipe for failure on the surface, has actually proven a pretty viable strategy on the still developing wearable scene, as the Korean giant definitely got many things right with the Gear S2.
However, despite all the well-deserved praise, no product is perfect and just like its Android Wear siblings or the Apple Watch, the Gear S2 faces challenges of its own. Undoubtedly one of the bigger calamities of the Tizen-powered watch is the relative lack of software, when compared to Android Wear. However, eager developers seem to have taken a liking to Samsung's versatile and powerful OS implementation and have been shrinking the app gap quite rapidly as of late. One interesting fresh addition to the Gear S2 is a full QWERTY keyboard.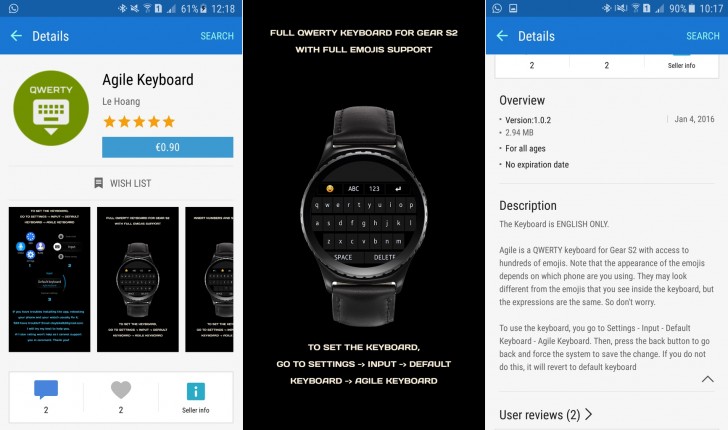 The app in question is called Agile Keyboard and is available through Galaxy apps for $0.90. It is a Samsung-style keyboard, even complete with a T9 predictive engine, much like on the company's handsets.
The Gear S2's Tizen-powered OS allows for easy implementation of third-party keyboards. These are easily switchable through the Settings » Input menu on the watch. It is this kind of development-friendly design that really make Tizen stand-out – a plus we described in more detail within our review of the Gear S2.
And for optimizing the IM experience on your wrist, another interesting app is currently under development for the Gear S2. It aims to solve a problem common to both Android Wear and the Tizen-based Samsung wearable OS, namely that currently you can only reply to instant messages from the notification interface. That is, you can only send a single response after someone writes to you and can't otherwise start or manage conversation. The app, showcased in the video below, acts as a message hub that simply allows you to manage active chats and write to people as you please. It currently supports multiple apps: WhatsApp, FB Messenger, Google Hangout, Line, KakaoTalk, Skype and Viber, with the possibility of more to come.
It the clip, we can see both apps working together beautifully on the Gear S2, as the ultimate testament that Samsung's latest smartwatch is definitely growing in popularity and drawing more and more developer attention.
T
Can I use Google Voice or talk to text in place of typing out my messages?
G
@toddk: Hi, how is it possible to install Swype onto my Gear S? Would you please help me? I I'd like to use Hungarian voice recognition so as on my Galaxy S6 Edge. Thanks!
S
I agree!! The lack of swype Keyboard is what is keeping me away.