Microsoft has been doing quite alright in the mid-range and budget smartphone segments, but a lot of fans are eagerly waiting for a true flagship device to finally come along. A lot of rumors hint that a few such devices might be already on their way to consumer markets, most-notably - the Lumia 940.
Don't give up hope, Windows fans. pic.twitter.com/Vce2NODMnk

— Evan Blass (@evleaks) June 15, 2015
We have already reported on a lot of speculations about the mysterious device, including talk of a bigger XL model, a USB Type C connector and a 20MP camera. Now, the latter seems to have found a spot in a new leak online. A blurred out photo was recently uploaded on Twitter, of what is said to be the camera of the upcoming Lumia 940 handset.
The image comes from the notorious evleaks, but has been blurred so it doesn't reveal too much. Still, it was the basis for a beautiful 3D render, which gives a much clearer perspective.On the side of the camera lens we find now one, not two, but three distinct round elements, reminiscent of LED's.
Dual-note flash technology is already fairly popular, but, not much has been done with an array of three lights. However, the photo does allow us to make out a slight color difference in all of them, which might indicate that two make up a flash array, while the third one could be something similar to LG's color spectrum sensor.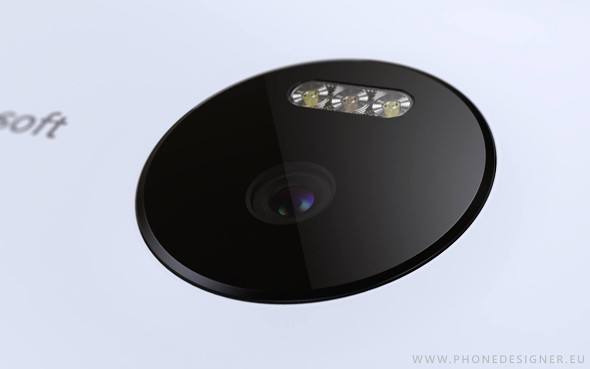 As far as other expected specs on the Lumia 940 and 940XL, we can expect to see a 5.2" QHD screen (1,440 x 2,560px) on the smaller one and a phablet-sized 5.7" of the same resolution on the XL. The most-likely contender for a chipset is the Qualcomm Snapdragon 808 for the Lumia 940 and perhaps the beefier Snapdragon 810 for its bigger sibling. Both are expected to spout 3GB of RAM, 32GB of onboard storage and 5MP front-facing cameras to complement the 20MP main shooter.
D
Lumia 940 comes with window 10 and lots more , even though it's expensive I m not doubt to buy it because it's awesome!!!!
s
I love Microsoft windows phone