Nokia has had a tough 2010, which proved worse than even the recession-bound 2009. The phones volumes and their prices have fallen but Nokia estimates it has taken the lead in the QWERTY phone market.
In Q4 2010 Nokia shipped a total of 123.7 million devices, 28.3 million of which were smartphones. The number of smartphones alone grew by over a third compared to an year ago, but their Average Selling Price (ASP) fell by 17% down to €156. The ASP for feature phones however rose to €43 (as compared to €40 in Q4 2009).
Correspondingly, the operating margin of the handsets and services went down to 7% versus 14.9% for Q4 of 2009.
Despite those developments, Nokia scored a 5% YoY improvement in net sales with a total of €12,651 million for Q4 2010. Still, Q4 2010 saw the Handsets&Services operating profit fall by 23% YoY.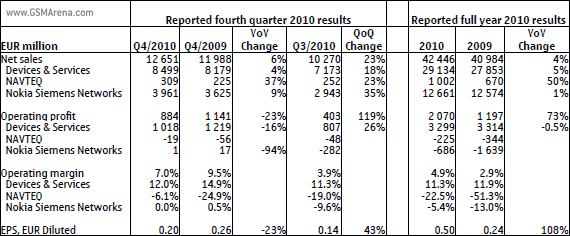 Overall Nokia maintains some strong positions in Europe (where most of the devices were shipped). North America still remains a hard market for the Finnish company to crack.
Shortages of certain components during Q4 of 2010 had adverse effects on device volumes and are expected to continue throughout Q1 of 2011. Nokia is expecting net sales of 6.8 to 7.3 billion euro in Q1 of 2011.
Estimates put Nokia's global market share at 32% for the whole 2010 (in 2009 that number was 34%). The device value market share also shrunk. 2010 as a whole marked a 5% increase in sales compared to 2009, but operating profit fell 0.5%, with operating margin going from 11.9% down to 11.3%.
Sales of the Nokia C3 were strong and Nokia estimates it's ahead of the competition in market share for QWERTY-equipped devices.

Stephen Elop, Nokia's new CEO, called the Q4 performance "solid" but cautions that there are significant challenges ahead. "In short, the industry changed, and now it's time for Nokia to change faster" says Elop.
There sure were some behind-the-scenes changes in Q4 - Nokia sold off its wireless modem business for €147 million and the Symbian Foundation was put under Nokia control after the other members left.
Ovi Store is growing, enjoying 4 million downloads a day (compared to 2.7 million a day in October 2010), and Ovi Maps is expanding as well. Ovi Music on the other hand suffered a partial blow.
Full details about Nokia's Q4 performance is available in the full press release.
S
At least with regard to the Indian market, Nokia seems to have read it wrong. For one they ignored the fast growing (albeit lower end, ie. < US$ 100) segment - the dual SIM phone. Small companies like Micromax, Maxx, Intex exploited this need gap ...
?
poor nokia, oh well rome was once mighty but it fell. time to go nokia. blame it on symbian, and those fat brick designs.
u
my N8 lost signal from sim-slot error. now the 3rd week and they don't have any answer. where is my phone ?
ADVERTISEMENTS