Samsung has just filed a trademark application with the European Trade Mark and Design Network for what's likely the logo of its upcoming personal assistant Bixby.
The logo, which looks just like a B, comes with a description that sounds inline with a virtual assistant - "Smartphones; mobile telephones; portable computers; tablet computers; interactive computer software enabling exchange of information across a computer network; computer software to enable the provision of information via communications networks; computer communication".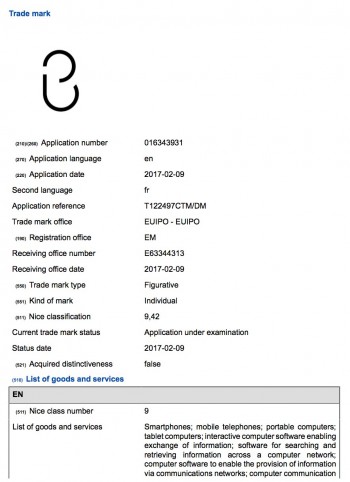 Samsung's application for the Bixby trademark
Rumor has it that Bixby will come pre-installed on the upcoming Samsung Galaxy S8 and Galaxy S8 Plus, will be able to converse in 7-8 languages (probably English, Chinese, French, German, Italian, Korean, Portuguese and Spanish) and could be summoned with the phrase Hello, which Samsung trademarked earlier.
It's expected that Samsung will launch its next flagship duo on March 29 and release them globally in April, so we don't expect to see any Galaxy S8s at the Mobile World Congress at the end of February.
D
is samsung finally going flat!? dear god, please.
D
For some reason it reminds me of TechnoBuffalo. lol
?
Get a cloud logo. Turn it around. Taadahhh! You got a Bixby logo! https://s-media-cache-ak0.pinimg.com/736x/ea/f5/86/eaf586636fe5eeb983f50d25a5c4943c.jpg
ADVERTISEMENTS