Earlier this month, an APK teardown done by 9to5Google detailed an upcoming update that would enable a new interface for Pixel devices while wirelessly charging on a Pixel Stand which debuted with the Pixel 3 and 3 XL last year. The latest news on the update is that some of the screens and elements were successfully enabled to give us an idea of how the mode will work.
As tested by 9to5Google, the clock lives in the upper left corner and displays the weather directly across from it. At the bottom is the Google Assistant logo, which acts as a reminder that you could say use the hot command at any time. Also noted is that the background isn't exactly black, but a sort of gradient dark color that changes with the time of the day.
This next interface is believed to be a secondary one, offering suggested commands and music controls via touch. The music controls widget prompted the user to set the default music provider and suggests that you ask the Assistant to "play music" or "tap here".
The widgets that follow the music controls are contextual and based on the Google app's 'Updates' tab and listed in long pill buttons you can just tap with your finger or ask Google via voice.
This mode is still undergoing changes as its being developed, but we have a good idea of its functions and features. Ambient Mode is meant to replace the Pixel Stand's current and basic interface.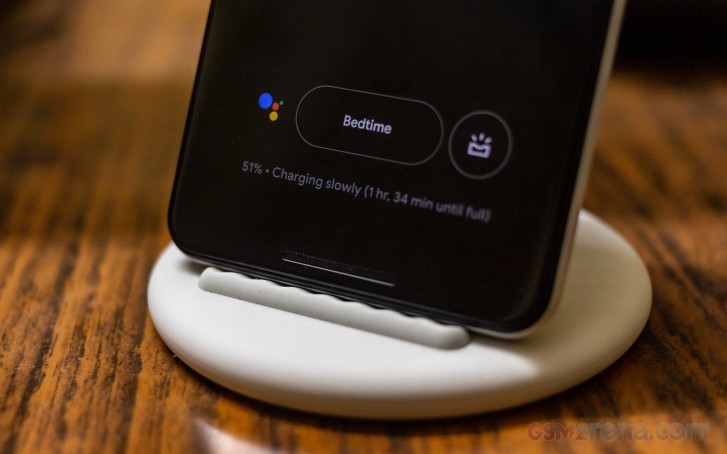 Google Pixel 3 on Pixel Stand
One thing we do wonder is whether Ambient Mode will show visual feedback after requesting an action such as a dimmer when changing lights or a visual forecast when asking about the weather.
m
hard to see the letter... who applies a dark background on a black font ?
?
Pixels have some really cool features already like Now Playing, and smart recommendations. For example if you get a message it will show you some assumed answers like Ok, thanks etc. There are few little details which you only notice when you use it....
ADVERTISEMENTS