Three days until Huawei unveils its 5G-connected foldable phone at the MWC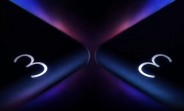 The Huawei P30 and P30 Pro will be unveiled on in late March, but between now and then an even more premium device will make its debut – Huawei's 5G-connected foldable phone. In fact, the countdown has reached "3 days" as you can see in the teaser video below.
The shows essentially the same thing as the teaser image from three weeks ago – the hinge of the phone. While we don't know much about the foldable screen part of the phone, the 5G part is pretty clear – the Balong 5000 5G modem will pair with the Kirin 980 chipset.
The countdown is on. Just 3 days to go before we are #ConnectingTheFuture LIVE from #MWC @GSMA. Come with us on the journey at 14:00 CET, 24.01.19: https://t.co/kXAdjtysr2 #MWC2019 #HuaweiMWC pic.twitter.com/SafCbXLEfy

— Huawei Mobile (@HuaweiMobile) February 21, 2019
While Huawei's foldable phone will come four days after Samsung unveiled the Galaxy Fold, the 5G connectivity gives it an advantage – the Fold is 4G-only.
The unveiling is scheduled for February 24 (this Sunday) at 13:00 UTC and we'll be on site so stay tuned to receive updates on what develops.
l
Not really. I have a huawei P9 with 2 camera sensors. 1 black and white the other wide angle colour. When it was released over 2 years ago no other phones had 2 cameras. So in a way huawei was the innovator not the imitator. I am looking to upgrade a...
M
Galaxy Fold Is 5G and 4G both..dont mislead people... Samsung is innovator , Huawei is cheater
G
Samsung is doing a great job being the first to launch a great product once again. Personally I wouldnÂ't buy the galaxy fold , first itÂ's a new first gen product , and second itÂ's really pricey . Being a experimental product itÂ's wise to wait a ...