Watch the Xperia XZ Premium high-speed video reveal the secret behind three magic tricks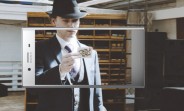 "How did he do that!" most people would exclaim while watching a magician at work. Some might be tempted to record the trick on video and review it several times, hoping to spot the exact moment that slight of hand transforms one card into another.
If you're going to do that, you'd probably want to use the Sony Xperia XZ Premium and its class-leading 960fps slow motion. Would it really work though, can you catch a magician in the act?
Sony partnered with Max "The Chelsea Joker" Randall to find out. Here are three tricks shown in real time and in slow motion. Now do you know how it's done?
d
dead design, poor 3rd party rom development (lose all camera features and stability when other LOS or AOSP roms are flashed. Design hasn't changed since the Xperia Z. Whats the point that Sony are trying to make? Is it that we have no imag...
U
I want to show you the antenna structure designs of Xperia XZ Premium and also the Triple Layer of Graphite sheets use for heat dissipating. sources: https://community.o2.co.uk/t5/Try-The-Tech-and-o­ther-device/Xperia-XZ-Premium-Everything-become.­..
D
That dude would have been me. Well, if we can only have features useful to the average user right now, we won't have any innovation ever. Twenty years ago, a camera in a phone was a "dumb" idea, because an average user didn't need it, and thirty year...