Despite outing the G3 S (or G3 Beat) just yesterday, LG clearly isn't done with the launches of Android smartphones for the year.
The Korean company is in fact working on at least three more handsets that should see the light of day at some point in the future. All of them have been spotted entering India recently, through an import tracking website.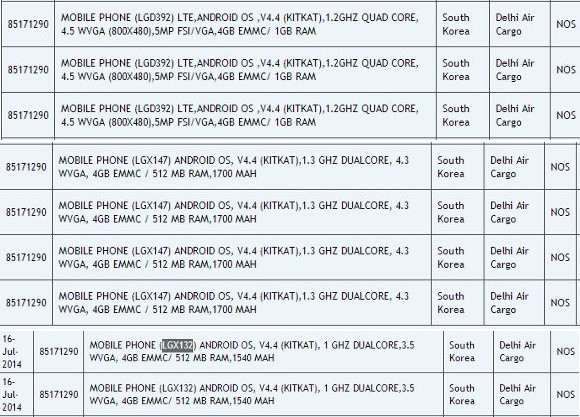 The LG D392 may or may not end up being sold as the F60. It seems to have a 4.5-inch touchscreen with WVGA (480x800) resolution, and a 5 MP rear camera. The front snapper maxes out at VGA resolution, and the phone has LTE support.
It's powered by a 1.2 GHz quad-core processor, which is aided by 1GB of RAM and 4GB of internal storage.
Next up we have the LG X147. This features a 4.3-inch WVGA touchscreen, a 1.3 GHz dual-core CPU, just 512MB of RAM, and 4GB of built-in storage. It has a 1700 mAh battery apparently.
Finally, the LG X132 is even lower-end, having to make do with a 3.5-inch WVGA display, a 1 GHz dual-core processor, 512MB of RAM, 4GB of internal storage, and a 1540 mAh battery.
All of these models run Android 4.4 KitKat. We should probably expect to see them in various emerging markets (including India) over the next few weeks or months.
The X147 and X132 could also be members of the next F series from LG, but nothing's certain just yet.
w
I hope they will be available in europe soon. Just for the local warranty. It's a hassle to send back the phone to China if something goes wrong.
w
I hope these will also miss a notification led and light sensor.