Three unannounced Moto devices get alleged pricing, all dual camera phones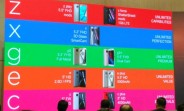 When it comes to smartphones, the selling price is very important to customers. Not only is it the value that the company is setting for its product, it's also a testament to whether customers deem the product worth the set price.
Twitter user @HeyAndri reports of three upcoming Motorola smartphone devices that have yet to be announced by the company.
iPhone 7 DUAL CAMERA envy? #motoG5S+, #motoX4 and #motoZ2Force all coming summer 2017. Rs 17999, Rs 20999 and Rs38999 respectively. #Moto

— Andri Yatim (@HeyAndri) June 8, 2017
The tweet mentions the following three upcoming Moto smartphones and their supposed retail price: Moto G5S Plus for INR 17,999 (~$280), Moto X4 for INR 20,999 (~$326), and the Moto Z2 Force for INR 38,999 (~$606). Unfortunately, this doesn't give us much more than a rounded number of exactly what these devices could cost once they hit the US market.
Not sure what Moto is doing this year, but they already have a large portfolio of devices ready to fill in any market gaps they may have missed last year. By order of entry-level to top-of-the-line: Moto has the Moto C, Moto E, Moto G, Moto X, and Moto Z series. Perhaps Moto wants to make sure that it has a phone for a wide range of budgets.
The Moto C and Moto X are new additions this year since the C is a new lineup and there was no new Moto X last year. The Moto G5S Plus and Moto Z2 Force will both have 5.5-inch screens, thought the Z2 Force will likely have a QHD one while the G5S Plus will have an FHD screen. Meanwhile the Moto X4 is supposed to have a 5.2-inch display and made with "3D" glass.
D
I'm really excited for the resurrected X series and the new Moto Z Force.
S
Moto X4 cant be 20k. Its going to be more then Moto Z2 play
?
They make phones... But don't know how to market those.