Tim Cook did an interview at the All Things D11 conference and spilled some details not only on the WWDC-bound iOS7 but also on why Apple keeps on making just one iPhone, as opposed to different variations of it.
Given the question on why Apple doesn't follow the same strategy it does with the iPod (making different sizes for different people) Cook answered that the iPod serves a different purpose with its various sizes. However, with the iPhone, that's not the case, as there are a lot more fine details that go into making it.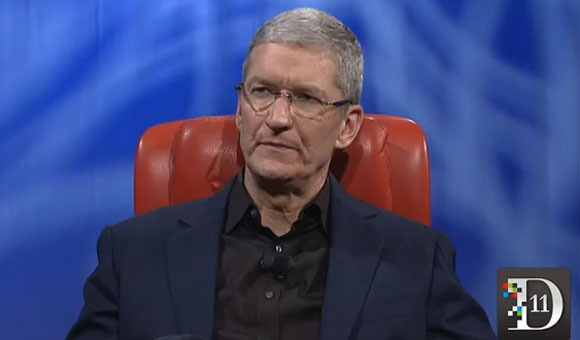 According to Apple's CEO, many people take into consideration the quality of the display, its properties such as color representation, white balance, brightness and more. The screen size is not necessarily the key factor, as is the battery life and look and feel of Apple's smartphone.
"It takes a lot of work, a lot of really detailed work, to do a phone right, when you manage the hardware, software and services around it. We've chosen to focus our energy on getting those right. And we've made the choices in order to do that. So we haven't become defocused [by] working on multiple lines."
Additionally, these devices wouldn't ultimately serve different types of people, as does the iPad mini or the iPod nano.
As far as iOS7 is concerned, Tim Cook mentioned it, too. He confirmed that indeed Johny Ive, Apple's VP of Industrial Design, has been working on the upcoming iteration of iOS. Johny Ive is "really key", as Cook put it, to the iOS redesign.
We expect the latest version of Apple's mobile OS to be unveiled at the WWDC next month (June 10) in addition to a refreshed Macbook line-up and possibly more.
Source
|
Via
?
No matter what size or screen a new iPhone will have - just iOS7 will decide over the success of the next iPhone. We all know when it comes to the hardware - it will be a little lighter, a bit smaller and will get a better camera. *yawn* Just iOS7 ...
D
Create a phablet or lose market share. This is the start of the demise of Apple - you CAN'T CONTROL THE MARKET. If you produce what people want, b/c you're so `freakin'' awesome, maybe there is still time for success. If you don't, you'll fail slo...
D
So stupid what this guys says.... apple´s trying make a perfect phone for 6 years... and nothing yet.... iphone keep getting the same problems ever... if you dont do a bigger phones or phablet... its because you´re not able to do!!!
ADVERTISEMENTS