Tipster claims Samsung Galaxy S21 series will ship without charger and headset in UK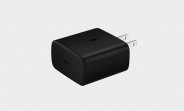 Dating back to October, reports circulating the web speculated that Samsung may follow in Apple's footstep and remove the in-box charger and bundled earphones with its Galaxy S21 series. Well, those rumors have only been intensifying in the past month and now popular tipster Ishan Agarwal also voiced his belief that Samsung will indeed cut out the in-box accessories at least in the UK. The tweet has since been deleted so we only have a screenshot.
The news comes after a certification listing in Brazil confirmed the S21 series will be sold without a charger and headphones. For what it's worth we still don't have official confirmation if all three Galaxy S21 series phones will ship without in-box accessories. Earlier this week Samsung was caught deleting a Facebook post that mocked Apple for removing the charger with its iPhone 12 series.
K
you are a one eyed man. arent you? headphone jack is dead which is a atrocious trend and it just paved a way for business. nothing else. like 3.5mm, removable battery is not that important. a battery lasts 2-3 years if you take care of your de...
K
Although I am a Samsung user but have to say it loud : Samsung is hypocrite
?
I am not buying a phone which doesn't have a charger. Why should I use my old charger for my new on? The most illogical decision I heard is this one from a very big company like Samsung. They better rethink what they are doing. I insist on for p...
ADVERTISEMENT