Samsung's been theoretically launching Tizen smartphones left and right for years. Actually though, we've yet to see one shipping product running the mobile OS that was once seriously thought to be able to take on Android.
For the umpteenth time, we might be close to the release of the first Samsung Tizen device. This won't be high-end like the "indefinitely delayed" Samsung Z, rather a low-end offering that might be headed to India as soon as next month.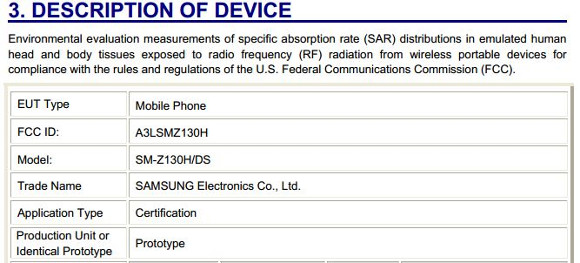 The SM-Z130H model number was first spotted in a few import listings for accessories on an Indian tracker back in July. And now it's been certified for sale by the FCC.
The Commission's documents don't shine much light on the phone's specs, except that it will have dual-SIM support, Wi-Fi, and Bluetooth. According to a different import listing from India, it will come with a 4-inch touchscreen.
As such a low-end device, the SM-Z130 will have to be very cheap in order to sell, given that the software platform it will come with hasn't been proven yet.
.
we all know this is a big leap for samsung, samsung just wants to make its own OS, and because they are considering google as a competitor for the past few years, eventually they will have to pull off of android, they are monster in the smartphone in...
?
Cause we all love samsung phones, and this tizen phone will be a hit too! Its the future of mobile os
s
I think people on here are commenting without information. Tizen runs android apps without having to have all of the 'required' google apps. Tizen is truly open. Everything is opensource. Not a half baked opensource like android. Mos...
ADVERTISEMENTS