T-Mobile conducts first 5G call over low band 600MHz spectrum using Qualcomm X55 modem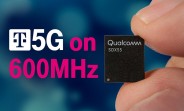 On Thursday, T-Mobile announced an important milestone in its 5G rollout. In its Belleview, Washington laboratory, the carrier, Qualcomm, and Ericsson announced that it achieved the first 5G data phone call. This was achieved using the Qualcomm X55 5G modem in conjunction with Ericsson's 5G radio systems using T-Mobile's 600MHz band (Band 71).
The test is significant because it was tested using a commercial modem. The Qualcomm X55 modem is a second-generation 5G modem that will eventually be built into off-the-shelf smartphones.
Currently, T-Mobile's "Extended Range LTE" is synonymous with band 71. The company paid $8 billion for this spectrum and customer benefit from better building penetration and longer range compared to higher frequency bands.
Today's data call marks a significant milestone in 5G's ongoing rollout across the United States, paving the way for the launch of commercial networks and devices on low-band FDD spectrum. This call demonstrates the ability to dramatically increase 5G's global footprint and we look forward to continuing our work with industry leaders like Ericsson and T-Mobile to unlock the full potential of 5G for consumers and new industries around the world. – Cristiano Amon, President at Qualcomm
While other carriers (T-Mobile included) are rolling out and testing 5G networks on mmWave (24GHz and up) spectrum, T-Mobile's 600MHz low-band spectrum will not require so many 5G access points. This solution is more practical for suburban and rural areas and should offer a more stable and consistent signal.
T-Mobile also mentions if the Sprint merger is approved by the US regulators, it will have the low and mid-band necessary "to supercharge our network and deliver broad AND deep, transformational 5G across the U.S."
G
the 600/700and 800 selected by EU to support 5G penetration will easily support Gbit connectivity. X55 Cat20 modems will have up to 1024 QAM FDD LTE and support TDD implementations as well. I don't see bandwith as an issue. Advanced modulation schem...
S
At one place on internet, it was written that lower frequencies can go for huge distances, but they aren't good at penetration of walls/ obstructions, which explains why the older TV antennas and radios required constant adjustment for a clear view. ...
J
I don't see how you could get a contradicting answer unless the responder is an idiot. Lower frequency has better penetration/range but less data capacity for example 2.4Ghz Wifi vs 5Ghz Wifi or even AM vs FM radio.