T-Mobile Digits goes out of beta on May 31, makes phone numbers flexible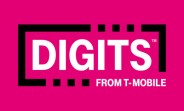 Back in December T-Mobile unveiled Digits, a revolutionary new service that's meant to "bring the phone number into the digital age". It's been in beta testing ever since, and today the Un-carrier has announced that it will go live for all of its customers on May 31.
So what can Digits do for you? Well, it lets you assign multiple phone numbers to the same device. So you no longer have to carry two phones around, one for work, one for personal use. Or you can use Digits to have the same phone number ring multiple devices - your phone, your tablet, another phone, a smartwatch, a PC - the likes. This works even with phones on other networks, as long as they run Android or iOS and you have the Digits app installed. It also works for texts, so you can send messages from your computer.
Digits will be free for T-Mobile customers who want to use their number on other devices. If you want another Digits line (with unlimited talk and text), it will cost $10 per month. If you are on the T-Mobile One Plus plan, you get one extra Digits number for free.
?
we don't care XP we still love tracfone and safelink wireless
?
WHAT is the use of your tracfone and safelink without the tower of at&t, T-Mobile sprint and Verizon wireless? basically NOTHING so stop bragging about that and fix your lag tools.. pweee
?
tracfone wireless and safelink wireless is still better XD