T-Mobile document leaks buy-one-get-one-free deal for Galaxy S7 and S7 edge
The Galaxy S7 and S7 edge are just days away from launch at this point. Those who pre-ordered their devices will be receiving them soon, well, if they haven't already.
Lately, T-Mobile has been known for pulling crazy stunts or being really 'out there' but this one might take the cake for deals on new phones.
TmoNews was tipped, most likely by a T-Mobile employee, with a screen capture of a document regarding a deal for the Galaxy S 7 and S7 edge, two phones that aren't even officially released yet.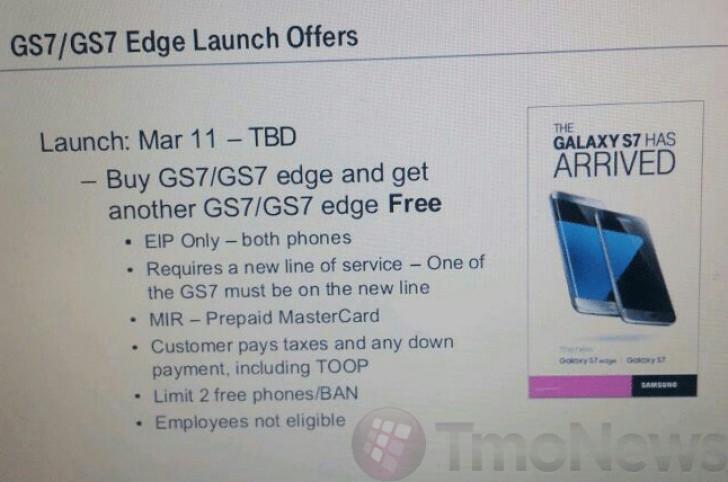 The deal says that customers who purchase two Galaxy S7/S7edge devices can get their second device for free. Before you flip out, there are a couple of things you need to do in order to actually qualify for this deal:
Both devices must be purchased on Equipment Installment Plans (aka. NOT a leased device) and the deal requires you to add at least one new line of service. It is not certain if the entire cost of the device will be refunded to you on a pre-paid visa card, but we can assume that you get the value of the phone upfront on the card, but you are required to pay for the free device on a monthly basis.
Unfortunately, this promotion wouldn't be available to T-Mobile employees, but to be quite honest, I'm sure they have better deals than BOGO on the latest smartphone.
The highly-anticipated Galaxy S7 and S7 edge are to be officially released this Friday, we'll have to wait to see what how T-Mobile announces this deal to customers.
D
The image is real, and it starts as 2 payment plans. you get a reimbursement for the phone on a prepaid Mastercard. What you do with the Mastercard is up to you but it is to pay for the device.
D
How is it 2 payment plans? It's only a payment plan on the first phone. The 2nd phone is free. So, would you be able to buy one and get one and then cancel the new line and sell that phone? The payment is attached to the first phone anyway. Has anyon...