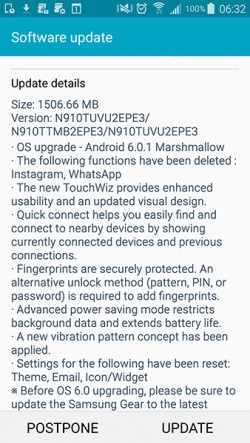 There was a time, not that long ago, when Verizon was undoubtedly the worst major US carrier when it came to how fast it made software updates available for the smartphones it sold. However, nowadays Big Red is increasingly becoming better at this compared to some of its competitors (though it has to be said that it's not necessarily getting faster at it, it just seems that other carriers have become slower).
For the Samsung Galaxy Note 4, Verizon made the update to Android 6.0 Marshmallow available at the beginning of this month, around two full months after the global rollout of the software had started.
Yet T-Mobile is only today commencing the over-the-air rollout of its Marshmallow update for the Galaxy Note 4 units it's sold - almost a month later than Verizon. Better than never, we guess.
As you can see from the screenshot to the left, you'll need to download a 1.5GB installation file, so make sure you're on Wi-Fi before attempting that. After installing the new release, you'll be on software version N910TUVU2EPE3.
The changelog is pretty straightforward. You'll get the new things that Google has included in this version of Android (Now On Tap, Doze Mode, App Standby, new permissions, and so on), but also some new features from Samsung (a new TouchWiz interface for example). Instagram and WhatsApp will no longer be preinstalled, and advanced power saving mode is now baked in to restrict background data use and extend battery life of course. Finally, "a new vibration pattern concept has been applied", intriguingly.
As usual for such rollouts, expect at least a few days to pass before all of T-Mobile's Galaxy Note 4 units receive the update notification - and if you're impatient, make sure you manually check for it through Settings.
D
You don't need to do anything. Doze happens in the background. When you lay the phone down -- inactive -- no movement detected, etc (like when you're sleeping), you'll notice much better battery life.I go to bed fully charged, and wake up 6 or 7 ho...
?
I'm in St Louis mo I got nothing! Wtf T mobile
S
I got my update last night from t mobile on my note 4. I don't see anything about a doze mode on it. What am I missing? That's one of the this I was looking forward to.