The T-Mobile G1 finally got a proper sequel - the T-Mobile G2 just went official, going on pre-order later this month. The Android 2.2 powered phone has HSPA+ connectivity and tight integration with Google Voice.
You've heard the specs before, but here they are again - this time official. The T-Mobile G2 has a 3.7" touchscreen and runs Froyo, so Flash 10.1 is go. It's powered by a Snapdragon MSM7230 CPU running at 800MHz (less then the initially rumored 1GHz).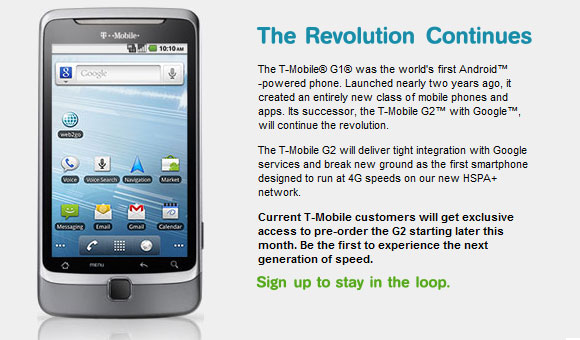 The camera on the back of the G2 is the popular 5MP camera with 720p video recording. There's 4GB built-in memory and an 8GB microSD card pre-installed.
The star of the show is undoubtedly the slide-out QWERTY. The other G2 - the T-Mobile G2 Touch a.k.a. HTC Hero - didn't have one, but the T-Mobile G2 has, making it a true successor to the G1. It's hinged in a fashion remotely similar to the G1, though the press release is unclear whether it tilts or not (rumors say No).
Anyway, you also have Swype pre-installed for fast text input even without having to slide out the keyboard. There are even dedicated Quick keys for instant access to shortcuts and apps.
Yep, speed is important to the T-Mobile G2 - it boasts HSPA+ connectivity that T-Mobile advertise as 4G speeds, for speeds up to 21Mbps (in theory anyway). If you're a fan of Google Voice there's good news too - the G2 is tightly integrated with the service.
Limited quantities of the T-Mobile G2 will be available later this month for pre-order in the US and more info is coming soon (sign up for updates here). Rumor has it, it will be 200 US dollars with contract or 500 dollars without one.
?
G2 is a same level device as Samsung Vibrant but with a physical keyboard. If I need keyboard, I would choose this over Droid 2, especially given that this is a "Google Phone" without extra weight. For those who still have not gotten t...
k
theres no such thing as 800ghz it would be 800mhz
?
4mbs internal with 5mp camera and an (underclocked) qualcom running at 800ghz. They underclock it to extend battery life, which is the NUMBER one complaint about smartphone, not processing speed. This is, of course, why they get paid good money, and ...
ADVERTISEMENTS