The T-Mobile Sidekick is getting reincarnated in the carrier's latest announcement. It was an iconic smartphone that had several celebrity endorsements, a screen that flipped out in a really cool 180-degree motion, and its operating system would eventually evolve into what we know today as Android.
Today, T-Mobile introduces the world's first Smartshoephone™: T-Mobile Sidekicks. As fun as they are functional, T-Mobile Sidekicks are fully tricked out for speed on the fastest LTE network ever and optimized for unlimited data with T-Mobile ONE, of course. Seeing really is believing with the new T-Mobile Sidekick.
T-Mobile's Smartshoephone features a flip-out screen like the Sidekick, only it pops out of the side of the sole. Share your contact information quickly by tapping toes with another Sidekicks owner. The kicks will also light up when you receive an incoming call and the lights will flash like the Sidekick 3's scroll ball did.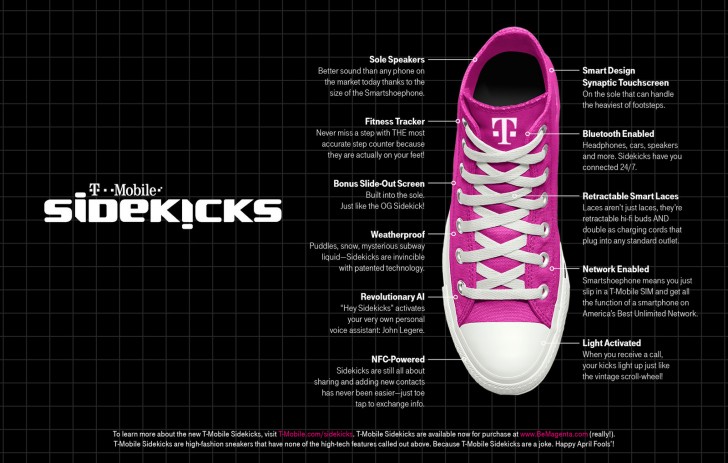 The T-Mobile sidekicks also have a display that takes up the entire bottom of the sole of one shoe while the other features "Sole speakers" and retractable Smart Laces that double as earbuds. There's even a "Hey Sidekicks" voice assistant, which features the soothing voice of T-Mobile's own CEO, John Legere.
Among some other features, the Smartshoephone is entirely fictional as this is T-Mobile's April Fool's day joke. You can actually purchase the T-Mobile Sidekicks (which are magenta hi-top Converse-lookalikes with the words "T-Mobile Sidekicks" on them) for $65 before April 15. You can pre-order them here. It can't do any of the smart features, though, as they're regular ol' sneaks. But T-Mobile says "They are magenta AF."
This April Fool's day joke was cute for T-Mobile, though it has us wishing there really was a T-Mobile Sidekick reboot after the Samsung-made and Android-powered Sidekick 4G from 2011.
t
I would love for them to come out with a new sidekick I would get rid of my IPhone x in a heart beat. I only upgraded my phone because my old sidekick wouldn't work
k
i ended up buying these shoes. i also wish they made the phone come back. i'd end up buying that too